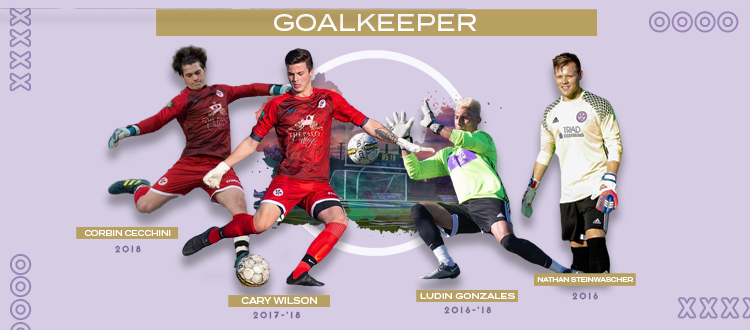 Vote For The All-Time OCFC Roster: Goalkeeper
Written by Robert Kerr, Staff Writer
—
The next position to be revealed for the Oakland County FC All-Time Roster is the last line of defense: goalkeepers. The position of goalkeeper is steeped in nuance more than any other on the field. A goalie's impact, role, and evaluation, are unlike that of any other. A keeper can be the most important player on the field, while often being nowhere near the ball. They could make ten miraculous saves in a losing effort, or could win a game and barely have to break a sweat. A goalkeeper is often asked with being the director of the defense and the organizer during set pieces while also being responsible for providing the first pass of a possession. Goalkeeping is a big duty and the club is very proud of every individual that has put on the gloves while wearing the crest.
The All-Time Roster includes four goalkeepers. Alphabetically listed, they are: Corbin Cecchini (2018), Ludin Gonzales (2016-'18), Nathan Steinwascher (2016), and Cary Wilson (2017-'18).
Over the next three days, supporters can vote via the poll below or on our Twitter page. The top vote-getter will be named as the starter in our final XI.

---
Corbin Cecchini (2018)
Corbin came to OCFC following his breakout freshman year at Northwood University. The young keeper debuted in a spectacular game, a 5-2 win over the Indiana Old Bhoys, on May 12, 2018. The Macomb native performed admirably in each his eight appearances, showing remarkably quick reactions and shot stopping abilities. Cecchini is currently pursuing a Master's degree in Business Administration at Northwood.
PLAYER SIGNING ✍🏻: Welcome to the club, @cecchini_corbin! The @NUmenssoccerMI sophomore keeper joins #OCFC for the 2018 season. 🇺🇸 #BleedPurple pic.twitter.com/pu1Y8jNckt

— Oakland County FC (@OaklandCountyFC) May 2, 2018
He was set to return to OCFC in 2020, and is now in his last year of college soccer. He recalls his favorite OCFC moment, so far, as the Supporters' Trust kit unveiling in 2018. The event showed him the support OCFC has, which excited him to perform in every match he appeared in.

---
Ludin Gonzales (2016 -'18)
Ludin Gonzales is the definition of #BleedPurple. The keeper was with the club through its first three seasons, and was a true club ambassador with his play and manner. Gonzales, a Carthage, MO. native, was always a positive, vocal goalie, unafraid to take risks. The OCFC veteran was more than willing to come out of his penalty area to break up an opponent's attack. Gonzales states that his very favorite OCFC memory was playing in our first-ever away game: a battle against AFC Ann Arbor in 2016. He also highly values the friendships he made and experiences he had during his time with County.
Tonight's Starting 11 vs KZFC: Gonzales (GK), Okerstrom, Walker, Hamodi, Woodfull, Lencioni, Dux, Barry, Birge, Miles, Chukwudi pic.twitter.com/7HGV9lcSlm

— Oakland County FC (@OaklandCountyFC) June 24, 2017
Gonzales is still highly involved in the game. He is currently a coach at Neosho High School in Missouri and owner of a Futbol Academy and soccer management firm.

---
Nate Steinwascher  (2016)
Featuring 13 times in OCFC's debut season, Nathan Steinwascher played a tenacious and spectacular brand of goalkeeping. The Stevenson High School graduate came to play for the club following a sparkling college career at Detroit Mercy. From his debut on May 4, 2016 against the Michigan Stars, and throughout OCFC's summer at Stoney Creek, Steinwascher produced acrobatic saves and spectacular performances. His tenacity making him play bigger than he himself.
SIGNING: #OCFC signs 2014 @HorizonLeague Keeper of the year, Nathan Steinwascher! https://t.co/lfxKEaXHVV. Welcome! pic.twitter.com/SlHIvOTN6C

— Oakland County FC (@OaklandCountyFC) April 10, 2016
The Sterling Heights native currently works as a CPA and plays in net for professional side, Detroit City FC.

---
Cary Wilson (2017-'18)
Cary Wilson was the comeback kid of 2018. The Clarkston native made just one OCFC appearance in his debut 2017 season before sustaining an injury that kept him out of the team. A year later, he returned to OCFC, determined to make his mark. He did just that. Wilson quickly showed himself a top keeper for the club in the summer of 18', where he started ten games and led the team in saves.
Staff writer @LWOSr2kerr2 conversed with @Wilson_Cary to get an in-depth feel of the goalkeeper's second stint with the club. The second installment of the #OCFC Player Series is here.

Volume 2 | https://t.co/YoV4IS5MRQ#BleedPurple pic.twitter.com/JjtTarIDu3

— Oakland County FC (@OaklandCountyFC) July 6, 2018
Wilson now works in IT security where he conducts digital forensics investigations. He sites his favorite OCFC memory as Toledo Villa's visit to Clawson, in June 2018. The OCFC keeper relished playing against Toledo, as their squad included a contingent of his collegiate teammates and coaches. Being able to play in a highly competitive game, against his Tiffin University colleagues, was a unique and most cherished experience.

---
Cast your vote below (top selection will be named a starter in our final XI):
Cary Wilson (73%, 10,149 Votes)
Ludin Gonzales (27%, 3,795 Votes)
Nathan Steinwascher (0%, 26 Votes)
Corbin Cecchini (0%, 23 Votes)
Total Voters: 13,993

Loading ...
---