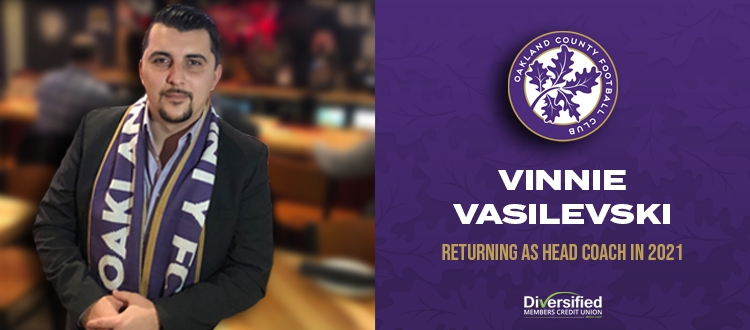 Vinnie Vasilevski to Return as OCFC Head Coach in 2021
Oakland County FC announced today that Vinnie Vasilevski will return as the team's head coach for 2021.
Vinnie Vasilevski was named the team's head coach one year ago, December 23rd, 2019. He was set to lead Oakland County FC in their inaugural USL League 2 season. Unfortunately, the COVID-19 pandemic would lead to the cancellation of the 2020 season. Vasilevski previously served as the assistant coach at both Northwood University and the University of Michigan-Dearborn; he also serves as the current Romeo High School varsity head coach.
Before entering the coaching realm, Vasilevski played collegiately at Tiffin University ('06 & '07), Saginaw Valley State ('08), and Northwood ('11) with a one and a half year professional stint in Sweden with IFK Trelleborg ('09-'10).
Coach Vasilevski has brought nothing but passion and dedication to the head coaching position of this club since he was hired. Over the past year during the pandemic, Vinnie has been in lock-step with ownership to ensure a successful product will be put on full display once we are finally up and running again. We couldn't be more excited for him to continue this journey with the OCFC family. – Nick Morana, Co-Owner
Vasilevski joined Oakland County FC after the departure of Darryl Evans, who served as the club's head coach from 2018-2019. Upon his hiring last year, Vasilevksi said,
I love the grassroots approach by this club and am honored to be part of the vision moving forward. This team is going to show hard work, energy, and enthusiasm, all while making our community proud to be supporters. Thank you to Theo and Nick for this opportunity; I'm very excited to begin competing at the USL2 level. Our highly competitive roster will not just be looked at as the 'new team on the block,' but as a formidable squad ready to make its name in the premier pre-professional league in the United States.
Please join us in welcoming back Coach Vasilevski! Over the course of the next month, the Great Lakes Division is on pace to set divisional alignment and begin the scheduling process for the 2021 season. Updates will be provided accordingly.
About Post Author