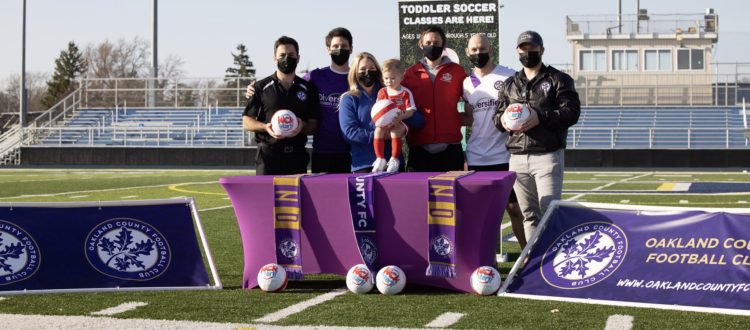 Oakland County FC and Kickstart Toddler Soccer team up as Community Partners
A few years ago, Oakland County FC introduced an exciting, entertaining brand of soccer to the community, and today Kickstart Toddler Soccer is doing the same by expanding their toddler classes into a county rich in soccer tradition and history.
"We've been providing toddlers with the best soccer learning experience for over a decade in Macomb County and we've been waiting for the right opportunity to expand into other areas.  With over 3000 toddlers each year registering for our programs the demand has never been higher for kids to get out and get moving." said program owner Kelly Schodowski.

The Oakland expansion will be led by Area Manager Ahren Savickas who has deep roots in the Troy soccer landscape.  As a former Youth Director for the Troy Soccer Club, TYSL Schools Field & Grounds Director, Soccer World Manager and his vast coaching experience will not only be a benefit to the organization, the partnership but the community and players within the surrounding area.
"Ahren brings together the knowledge of the community and the game, but most importantly, a love for sharing it with kids in a way you don't see too often.  His energy is infectious. Our decision to expand became much easier when we brought Ahren on board.  We knew we had the right guy for the job" said Schodowski.

Included within this partnership, OCFC will provide players for ongoing Kickstart classes and matches, a championship toddler match will be held during the halftime of our June 26 friendly, exclusive ticket promotions throughout the season, and much more.
"We love that we can provide inspiration to young Kickstart players through OCFC's Semi-Pro affiliation." says OCFC Co-Owner Theo Foutris
Kickstart Toddler Soccer will have three locations in Troy and one location in Lake Orion to start this Spring and will be open to players ages 18 months up to 8 years old.  Kickstart will be teaming up with Oakland County FC to offer toddlers and their parents a chance to see an up close look at the game at a high level.
"We wanted to come in and be a part of the excitement that OCFC is helping ignite here" said Schodowski.
Toddlers can register for Kickstart Classes online right now at www.KickstartToddlerSoccer.com.  Spring registration is open and forming now.  Oakland County FC will kick off it's season on Sunday, May 9th.