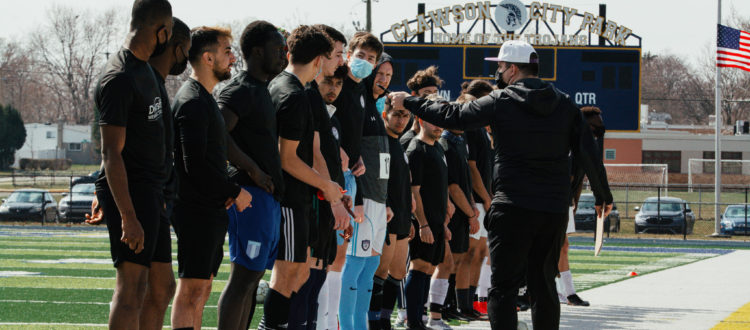 2021 OCFC Tryouts: Fresh Faces and a Fresh Start
Written by Robert Kerr, Staff Writer
—
After the extended 2020 break, Oakland County FC soccer is back on! March 27 marked the return to action for OCFC and the birth of Head Coach Vinnie Vasilevski's era at the club. Coach Vinnie and his new coaching staff have long been working off the field and were finally able to run their first official session.
New assistant coaches Igor Blazevski, Trevor Foster, and Borce Kosteski took in their new home field, as they ran the tryout sessions over the weekend. The staff led a stunning number of trialists and the largest outing since 2017.
Day 1 of open tryouts in the books! 📚 pic.twitter.com/z01SWqriwr

— Oakland County FC (@OaklandCountyFC) March 28, 2021
The players who ended their weekend with an invitation to join the OCFC squad will now have the opportunity to compete at the highest levels of amateur soccer in the country. The players who came out to Clawson Stadium from near and far this weekend deserve a big 'thank you' and a congratulations. So many of the players showed their passion and put their bodies on the line for a chance to #BleedPurple.
In addition to the new coaching staff getting their start, and the impressive turnout of hopeful players, the weekend was one of introductions and reunions. Being on the home field with real club activities in motion was an uplifting feeling. The vision of being back in action became clearer by the moment.
That's a wrap for tryouts! #BleedPurple

📸: on.lok pic.twitter.com/DfeguVAq6X

— Oakland County FC (@OaklandCountyFC) March 28, 2021
The open tryouts are the first tangible step on the path toward the club's highly anticipated USL2 debut season. The time approaches when you can walk into the park and watch a game. Friends, goals, and fun, will be there in just five weeks time. OCFC's home schedule begins May 9th, and climaxes against the reigning national champions, on the fourth of July. Be on the lookout for a detailed preview of Oakland County FC's 2021 season schedule to arrive on the club website.