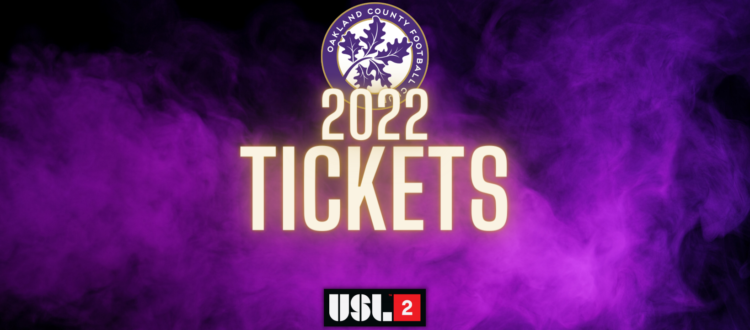 Single and Season Tickets now on sale for Oakland County FC's 2022 campaign
Single-match and Season Ticket Memberships for Oakland County FC's 2022 USL League Two season are now on sale! Tickets can be purchased at oaklandcountyfc.com/tickets.
OCFC will host seven home matches at Royal Oak Stadium beginning on May 21. The full season slate can be found at oaklandcountyfc.com/schedule.

Now featuring two new Season Membership options, supporting the club is that much more fulfilling. The two options, Gold and Purple, offer a variety of exclusive advantages for season members such as a professional photo with the team prior to a match and a 2022 signed and framed captain photo, among other perks.
A packed 14-match schedule faces Oakland County as they aim to tackle some unfinished business after a turbulent finish to the 2021 campaign.
Earler this year, it was announced that Oakland County Football Club was moving their home field location to Royal Oak Stadium. Featuring a new venue, the match day experience aims to be unlike any other in club history as the renovated stadium will give off that true stadium-type experience for fans of all ages.
Single match tickets begin at $10 for supporters agest 5 and older (4 and under are free).
For a full view of the 2022 schedule with kickoff times, visit oaklandcountyfc.com/schedule.
Match day amenities and broadcast information will be annouced in May.
For more information about the club, visit oaklandcountyfc.com and follow @OaklandCountyFC on Twitter and Facebook and @oaklandcountyfc on Instagram.