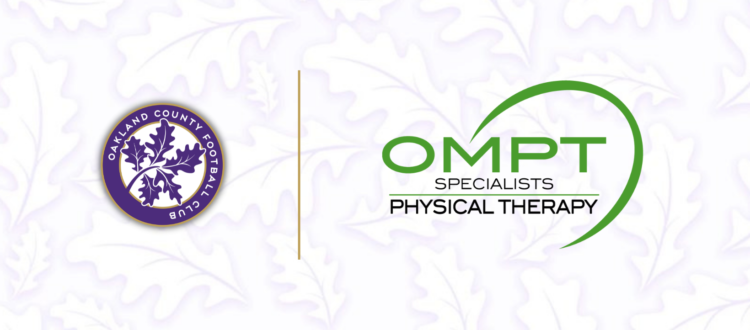 OMPT Specialists introduced as Official Physical Therapy partner of Oakland County Football Club
Oakland County FC is thrilled to announce a new partnership with OMPT Specialists Physical Therapy!
OMPT Specialists Physical Therapy is grateful to partner with Oakland County FC this year. We couldn't think of a more fitting collaboration than soccer and physical therapy. We love to see what the Oakland County FC is bringing to our local community and excited to be a part of it!" – Michael Fahmy, DPT, OMPT Owner of OMPT Specialists Physical Therapy.
OMPT will be featured on the 2022 OCFC kit as well as being the official sponsor of the 'Man of the Match' throughout the season. Young fans can look forward to the newly revamped OMPT Kids Zone, as well as the crowd favorite OMPT T-Shirt Launch when they visit Royal Oak Stadium this summer.
Welcome to the family! Adding a community partner like OMPT to our organization is a win-win scenario for everyone involved. Their passion for local growth and their success in the physical therapy realm makes OMPT a leader amongst the rest and a perfect partner for us." – Theo Foutris, Co-Owner
OMPT Specialists Physical Therapy opened in 2006 with one thing in mind, a higher level of therapy for proven results. Each patient receives ONE-ON-ONE care with the SAME OMPT Certified Physical Therapist each visit. With the philosophy in mind that the highest quality and continuity of care would allow patients to see quicker and more long-lasting results, they have grown over the years and now have 12 LOCATIONS! They offer an array of services including aquatic therapy. If you would like to learn more about OMPT Specialists, please visit their website at www.OMPT.com or call 248-353-1234.
Oakland County FC recently announced their move back to Royal Oak and kicks off the home campaign on May 21 at Royal Oak High School Stadium. For tickets, visit www.oaklandcountyfc.com/tickets