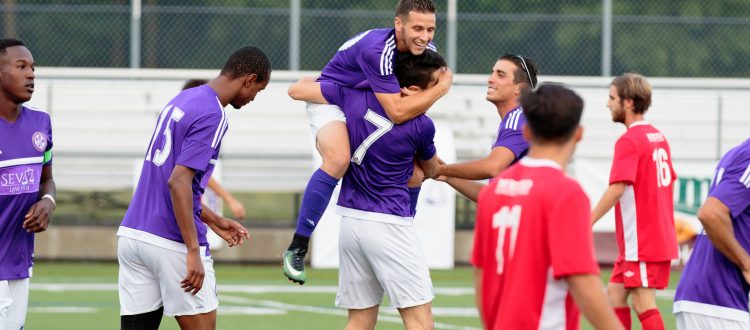 Match Recap: Going Out with Style
With one match remaining for the 2017 season, Oakland played a match as laid back and relaxed as you'll ever see them. The result? eight goals to one in favor of your club in purple.
Dressing six new faces,the home squad looked to get on the board early and finish out the season on a positive note. Newcomer David Tetaj (Schoolcraft College) started the scoring early as he netted a brilliant ball from an Abdoulie Jallow (Marygrove College) assist, his first of two for the match.
2′ GOALLLAASSOOOO TETAJ! A cross from Jallow finds Tetaj in the box who slots it top corner. 1-0. #BleedPurple

— Oakland County FC (@OaklandCountyFC) August 5, 2017

A mere eight minutes later, Kaveon Dux (Oakland University) found himself wide open in the box from a brilliant pass from Azaad Liadi (Saginaw Valley) as he placed it in the back of the net to give Oakland the quick 2-0 lead. Liadi would go on the finish the match with two assists. After two more goals from the home squad, Fred Prest (Rochester College) added to the scoreline as he received a pass from Dux and netted his second of the match in the 30th minute.
30′ – GOAL PREST! Dux with a silky smooth ball to a wide open Prest in the box as he rifles one past the keeper. 5-0. #BleedPurple

— Oakland County FC (@OaklandCountyFC) August 6, 2017
After some back and forth possession from both clubs, Oakland went into the half with a five-goal advantage over Windsor TFC.

Oakland County FC (4-5-1)

: Velkovski (Greenfield); Hamodi, Pires, Franchini, Beshara; Morana, Miles, Liadi, Jallow, Dux (Viu); Tetaj (Prest)
Goal Scorers: Tetaj (2′, 18′, 63′), Prest (25′, 30′), Dux (10′, 64′), Viu (48′)
The second half proved to be much of the same as they controlled possession for the majority of the game. Picking up where they left off,  Oakland netted three more goals from the likes Tetaj (hat-trick), Alex Viu, and Dux to complete the match with a scoreline of 8-1.
FINAL: #OCFC pours in 8 goals to finish the year with a W. Thanks to all that attended tonight's match! #BleedPurple pic.twitter.com/SU4sdhHo4s

— Oakland County FC (@OaklandCountyFC) August 6, 2017
First-time appearances from Joey Franchini (Rochester College), Fred Prest (Rochester College), Yago Pires (Madonna University), Alex Viu, Chris Velkovski (Michigan) and Gabriel Greenfield (Marygrove College) all proved to be vital additions to the OCFC roster as they represented the crest with class.

Saturday's match marked that last match of the year in what was surely a season to remember in our new home of Royal Oak. Look for the season recap to come soon.
This was a good way to end the season. Granted, Windsor came with a slim roster, but it was fun to see our players get one last run before we closed the doors on the year. I'm looking forward to building on the relationships we started and to an eventful off-season. And, a break, of course! – Coach Morana