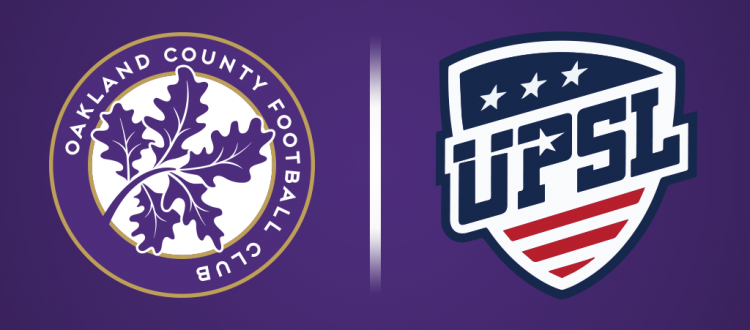 Premier League of America (PLA) Merges with United Premier Soccer League (UPSL)
OCFC Ownership is pleased to announce that Oakland County Football Club will be joining the United Premier Soccer League as a member of the newly formed UPSL-Midwest Conference.
The announcement signifies the completed merger between the Premier League of America (PLA) and the UPSL in a joint effort for 'National League' recognition. The charter members of the UPSL Midwest Conference are Milwaukee Bavarian SC, Madison 56ers, Croatian Eagles SC, RWB Adria, Oakland County FC, Carpathia FC, Aurora Borealis SC, Cedar Rapids Rampage United, Elgin Pumas SC, Muskegon Risers SC and Toledo Villa SC.
#UPSL add 11 clubs to Midwest https://t.co/QnwPhCylh0

— UPSL (@UPSLsoccer) September 6, 2017
The newly-formed UPSL Midwest Conference will initiate friendlies during the 2017 Fall Season in preparation for the UPSL's upcoming 2018 Spring Season.

We are very pleased to consummate this strategic partnership between the two leagues. Connecting American Soccer is our league slogan, and this consolidation of new teams forming the new UPSL Midwest Conference is a testament to the desire of our team members to become one underneath a single umbrella of a Promotion/Relegation system. We are a step closer to connecting the soccer system in the U.S. that has been so fragmented for years as we now operate in four time zones as a National League –  Yan Skwara, UPSL Commisioner,
The full release can be read here.
Stay tuned for more information as details of 2018 campaign structure become available.
We are extremely excited for this next phase for our organization. This is a golden opportunity for all clubs involved and we can't wait to get the 2018 season rolling. – Ben Rode, Co-Owner

About the UPSL
The UPSL was formed in 2011 and currently includes more than 90 teams in Arizona, California, Colorado, Florida, Georgia, Idaho, Illinois, Iowa, Massachusetts, Michigan, Nevada, New Jersey, New York, North Carolina, Ohio, South Carolina, Utah, Virginia and Wisconsin. UPSL is the fastest growing Pro Development League in the USA, with 100-plus teams targeted for 2018 Spring Season. Each UPSL team is individually owned and operated, and is responsible for maintaining either UPSL Pro Premier Division or Championship Division minimum standards.
UPSL teams are all eligible to participate in the U.S. Open Cup Qualifying Rounds through the leagues affiliation with the U.S. Soccer Federation (USSF) and the United States Adult Soccer Association (USASA).