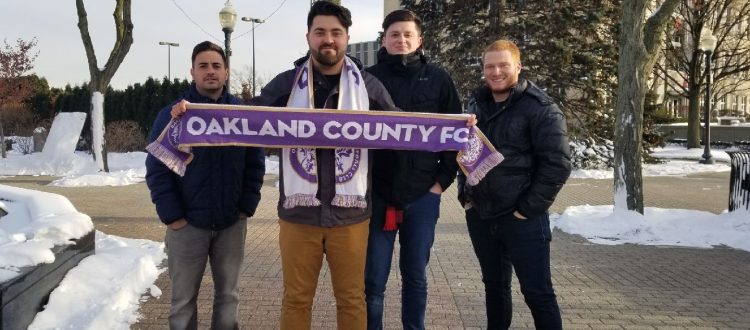 Oakland County FC Hires Dan Roland as Director of Operations
Oakland County Football Club is proud to announce Daniel Roland as the club's Director of Operations.

"This is big step forward for our organization. Mr. Roland has essentially been with us since day one and we couldn't be more excited for him and what he brings to our club. We are growing each and every day and we are beyond happy for Dan to be joining the family." – Ben Rode, Co-Owner
A Vassar, MI native, Dan officially joins OCFC with a wide array of knowledge of the club and landscape of our operations as he has worked as an intern with the team for the past two seasons. Gearing up for this position, he headed the 2016 and 2017 intern teams and communicated with ownership on a weekly basis on areas that could be improved upon in regards to fan experience on game day. Dan's current work with the Detroit Pistons in Operations and Marketing has helped him excel throughout his time with the club.
"It really is a true testament of just how far we've come. Dan has become one of our biggest behind-the-scenes assets and we couldn't be more appreciative of him. He's our right hand man." – Theo Foutris, Co-Owner
Fun Facts about Dan
Favorite soccer team (other than OCFC): "Easily Manchester City."

Favorite TV show: "Game of Thrones."

Favorite vacation spot: "New York, New York."

Favorite food: "I'm a man of simple tastes. Pizza and wings."

Second preferred sport: "I'll go with baseball. But WWE is right there too. Go John Cena!"
"It's an honor to be officially brought into the club. Being here since the beginning, it's great to see the club continuing to grow. I think this next year is a big year for us. I can't wait to get to work and show the people of Oakland County what we have in store." – Dan Roland, Director of Operations
Dan's tasks will include (but not limited to): overseeing the 2018 game day experience, working directly with the ownership group on day-to-day operations, creating the 2018 Internship & Volunteer program, assembling an intern team with a focus on marketing, fan engagement and game day experience, spearheading community events and on-site tabling opportunities, and much more.
2018 internship opportunities will soon be available. For initial inquires on how to get involved with the club via an internship or volunteer position, please send an email to Dan Roland at danroland@oaklandcountyfc.com.
---
About Oakland County FC
Oakland County Football Club is a Semi-Professional soccer team dedicated to providing a remarkable on-field product as well as an unforgettable game day experience. OCFC will strive to bring high-level soccer and entertainment to Oakland County and surrounding communities. Additionally, we aim to cater to every audience, both youth and adult. OCFC's long-term vision is to create a community backed club sponsored by both local and regional organizations, which will give back to the residents of the community in the form of pride and involvement.