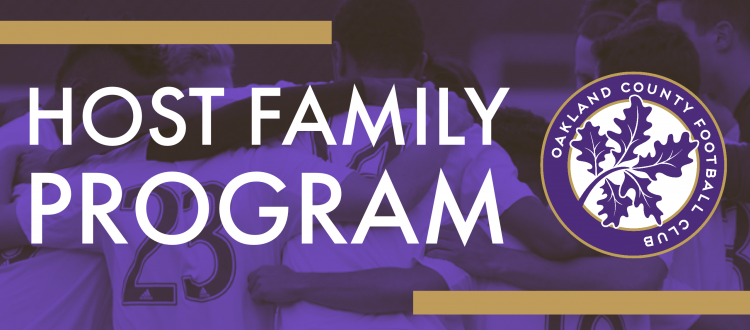 OCFC Launches Host Family Program
As the 2018 season quickly approaches, Oakland County Football Club is committed to showcasing the highest level of talent the league has to offer for years to come all the while connecting the community with these very special athletes. With that, we are pleased to announce the formation of the 2018 OCFC Host Family Program.

Beginning as early as April, we are seeking generous families and individuals willing to warmly offer their homes to student-athletes traveling from far and wide searching for lodging options as they prepare for the season ahead. As we continue to grow as a club, we strive to provide as many opportunities as possible to our players, fans and sponsors in an effort to cement our stamp within the community.
"With the program, not only are we looking for housing for prospective athletes, but we are hoping that this forms numerous lifetime relationships between the community and these gentlemen." – Nick Morana, Co-Owner
As a pay-off for Host Families, OCFC will be offering the following:
Season Tickets and team apparel for each member of the family

Free food at each match

50 flex-pass tickets for your distribution (good for use at any match)

In-season 'Host Family Spotlight' article

Additional exclusive opportunities that cater to each family's desires
If you are interested in becoming a 2018 Oakland County FC Host Family, or simply have a question, please contact our front office at (248) 629-0251 or send us an email at info@oaklandcountyfc.com.

---
About Oakland County FC
Oakland County Football Club is a Semi-Professional soccer team dedicated to providing a remarkable on-field product as well as an unforgettable game day experience. OCFC will strive to bring high-level soccer and entertainment to Oakland County and surrounding communities. Additionally, we aim to cater to every audience, both youth and adult. OCFC's long-term vision is to create a community backed club sponsored by both local and regional organizations, which will give back to the residents of the community in the form of pride and involvement.