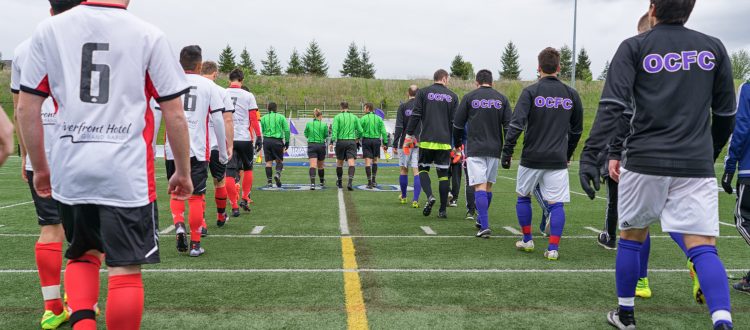 Recap: Second Wave of 2018 Roster
Written by Robert Kerr, Staff Writer
—
Oakland County Football Club continues it's remarkable period of growth in 2018 by continuing to announce their new roster. These Oakland County FC players will be donning a very special edition of the Purple and White kit in 2018. OCFC will be wearing their first-ever supporter-selected jersey, a distinct and unique honor: an experience only Oakland County FC offers to its fans and players. The 2018 kit will be unveiled at the Supporters' Trust preseason party on May 10. Through the winter months, Oakland County FC have acquired a new home, coaching staff, launched a Supporters Trust, and have joined an exciting new league.
---
Travis Harrington
Welcome back to the club, @tharrington23! The @GoldenGrizzlies midfielder returns for year two with #OCFC 🇺🇸 #BleedPurple pic.twitter.com/UetYKCXnH4

— Oakland County FC (@OaklandCountyFC) April 11, 2018
Wednesday saw the return of Travis Harrington to OCFC. The attacking minded midfielder started six of his eight appearances, and assisted on two Oakland County goals in 2017. The Utica Eisenhower grad comes back to the club after his third year at Oakland University. The Macomb native has prior playing experience in Clawson, as well as with OCFC.
"I've previously played some games in Clawson, it's a nice stadium and I'm looking forward to playing with some new and familiar faces. This season definitely should be fun, and I'm hoping we can build off of last year and have as much success as possible joining the UPSL."
---
Cameron Panley
Welcome to #OCFC, Cameron Panley! The @GoBearcatsMSOC sophomore joins our midfield for the 2018 season. 🇺🇸 #BleedPurple pic.twitter.com/tAvNsrOAAU

— Oakland County FC (@OaklandCountyFC) April 11, 2018
Midfielder Cameron Panley joins Oakland County FC following his sophomore year at the University of Cincinnati. Panley has made 23 appearances for the Bearcats in his first two seasons at the collegiate level, earning 538 minutes of game action.
"I'm very excited and proud to join such an up-and-coming club. From the looks of it, we're going to have a very talented group this summer and hopefully have a very successful campaign. I'm looking forward to working hard and winning a lot of games."
The Beverly Hills, Michigan native had a standout career with Brother Rice High School and the Vardar Academy. It's clear the 6-foot-tall midfielder is ready to put on the Purple and White shirt.
---
Saeed Tawil
PLAYER SIGNING ✍️: Welcome back to the club, @stawil7! The former @MGCollege midfielder returns for his second season with #OCFC. 🇾🇪🇺🇸 #BleedPurple pic.twitter.com/TP6b7mqwob

— Oakland County FC (@OaklandCountyFC) April 12, 2018
Oakland County welcomed another familiar face back to their midfield Thursday afternoon with the announcement of Saeed Tawil. The 5-foot-5 attacking midfielder hails from Dearborn and was a four year varsity player at Fordson High School. Tawil was a key member of his Fordson Tractors team as he earned numerous awards, including a Most Valuable Player award his senior year.
"I'm really excited to be playing with OCFC and I really think the ownership of [the club] have the same goal as me for 2018. That goal is to win the league and the Milk Cup".
The former Marygrove Mustang (and future Concordia University Cardinal) appeared in 6 games, and was a started five times for Oakland County in 2017.
---
Hakeem Sadler
PLAYER SIGNING ✍️: Welcome to #OCFC, Hakeem Sadler! The @NJCAA first-team All-American from @OcelotSoccer joins the club for the 2018 season. 🇯🇲🇺🇸 #BleedPurple pic.twitter.com/ivgpcLNrlg

— Oakland County FC (@OaklandCountyFC) April 13, 2018
Oakland County FC is very excited to announce the addition of Jamaican attacking midfielder Hakeem Sadler. The soon to be 24-year-old comes to the Purple and White following a superb season with Schoolcraft College, a season in which he earned a National Junior College Athletic Association All-American award. In his single season with the Schoolcraft Ocelots; Sadler appeared in 15 games, scoring 11 times while registering 5 assists. Sadler, after being announced to the 2018 roster, remarked that he began to learn about OCFC from a Schoolcraft teammate, and after hearing interest from OCFC scout Talal Khoulani, the talented player said:
"I didn't hesitate on the offer to represent [OCFC] this summer."
Veteran Schoolcraft Head Coach Rick Larson was quoted as saying, after the 2017 season that "Hakeem simply had the best postseason run of any player I've coached here at Schoolcraft College."
---
Yago Pires
Welcome to the club, @yago_pires! The @ClearyUniverse defender joins the #OCFC backline for 2018. 🇧🇷🇺🇸 #BleedPurple pic.twitter.com/tpfeOXOGKF

— Oakland County FC (@OaklandCountyFC) April 14, 2018
In the midst of the washed out weekend in Clawson, Oakland County FC welcomed defender Yago Pires. The Brazilian born defender appeared in OCFC's final game of the 2017 season before playing his senior collegiate season at Cleary University.
"I'm very excited to be part of OCFC. It will definitely be a great experience. I played the last game of the 2017 season and could tell how passionate the Oakland County fans are. I'm sure they will bring the same energy to Clawson and help us as our twelfth player on the field."
Pires expressed supreme confidence when looking ahead to the 2018 season saying "I believe this year will be a special one for the Oakland County fans and community because we have a great squad with high quality players and an awesome coaching staff."
---
Hamidou Barry
PLAYER SIGNING ✍️: Welcome back, Hamidou Barry! The @GoldenGrizzlies midfielder rejoins #OCFC for 2018. 🇨🇦🇺🇸 #BleedPurple pic.twitter.com/yR3aaS14Xo

— Oakland County FC (@OaklandCountyFC) April 16, 2018
A new week brings more new players. Oakland County FC is happy to welcome back Canadian midfielder Hamidou Barry. Barry returns to OCFC after a playing a key role for the team in 2017. The 19-year-old started all eight of his OCFC appearances, netted two goals, and was credited with two assists. Collegiately, Barry has appeared in 20 games over his three seasons for Oakland University. The midfielder has also found success academically, winning awards in both physics and chemistry, in addition to earning the top GPA while in high school.
---
David Tetaj
PLAYER SIGNING ✍: Welcome to #OCFC, @DavidTetaj! The @OcelotSoccer forward joins the Purple and White for 2018. 🇦🇱🇺🇸 #BleedPurple pic.twitter.com/SyrbpgyfAv

— Oakland County FC (@OaklandCountyFC) April 16, 2018
Oakland County then introduced high-scoring forward David Tetaj. The Farmington Hills native has been a regular on the scoresheet for Schoolcraft College, scoring an incredible 24 times in 39 appearances. The forward can also create goals, as he tallied an impressive 22 assists to go with his collection of goals for the Ocelots. OCFC fans will be in for a treat if Tetaj can recreate this kind of goal-scoring form this summer.
Oakland County's up-to-date roster can be viewed here.
---
Oakland County FC's squad will begin training Tuesday, April 17 at Clawson Stadium. OCFC's weekend tryouts were postponed due to poor weather over the weekend, and have been rescheduled for Saturday, April 21.
OCFC will play in it's first season in the United Premier Soccer League (UPSL).
The nation-spanning UPSL expanded to the region after the 2017 season, and created the UPSL's Midwest Conference – East region. The division consists of six teams; four teams from Michigan, and one each from Indiana and Ohio. Oakland County FC will kickoff their home opener on May 12, against the Indiana Old Bhoys at 7pm. Tickets can be purchased here.
---
About Oakland County FC
Oakland County Football Club is a Semi-Professional soccer team dedicated to providing a remarkable on-field product as well as an unforgettable game day experience. OCFC will strive to bring high-level soccer and entertainment to Oakland County and surrounding communities. Additionally, we aim to cater to every audience, both youth and adult. OCFC's long-term vision is to create a community backed club sponsored by both local and regional organizations, which will give back to the residents of the community in the form of pride and involvement.