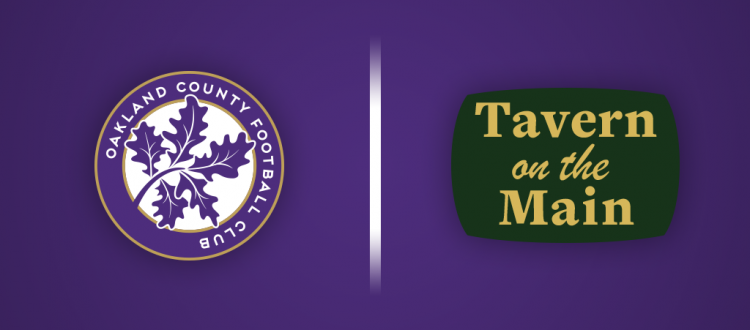 'Tavern on the Main' Named Official Prematch Bar
Oakland County Football Club is pleased to announce that Clawson's own Tavern on the Main has been named as the Official Prematch Bar for OCFC faithful throughout the 2018 season!
Located at 235 S Main Street, Clawson, MI 48017, the Greek-American pub will serve as the meetup spot prior to each OCFC home match. The patio will be decorated with purple and white flags on match day in preparation for the March to the Match.
With the partnership, TOTM has agreed to offer the following specials on match day for supporters:
Extended Happy Hour solely for supporters wearing OCFC apparel

Appetizer special pricing for each supporter table

Special beer orders with a week notice (have a unique beer in mind, let us know!)
The 2018 season kicks off on Saturday, May 12 at 7:00 PM. The full season schedule can be viewed here.
The whole city of Clawson is excited to have OCFC in their very own backyard. We can't wait to get the season started and are looking forward to seeing the fans on gameday! – Rhonda Banfield, Manager
OCFC faithful will get their first look at Tavern on the Main as we host our 2018 Jersey Reveal/Trust Member Party here on May 10 at 7:00 PM.
---
About Oakland County FC
Oakland County Football Club is a Semi-Professional soccer team dedicated to providing a remarkable on-field product as well as an unforgettable game day experience. OCFC will strive to bring high-level soccer and entertainment to Oakland County and surrounding communities. Additionally, we aim to cater to every audience, both youth and adult. OCFC's long-term vision is to create a community backed club sponsored by both local and regional organizations, which will give back to the residents of the community in the form of pride and involvement.