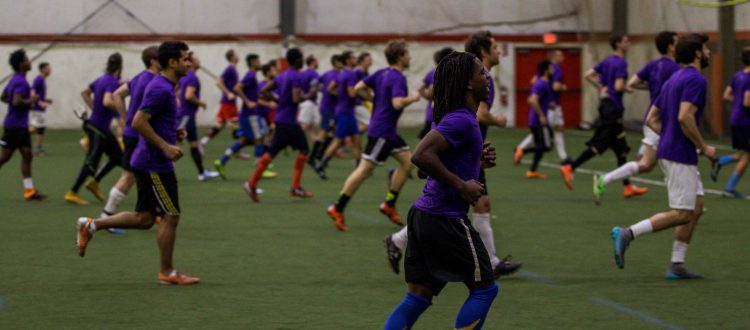 Improved Conditions Ahead for Rescheduled Tryout
Written by Robert Kerr, Staff Writer
—
Oakland County FC will be hosting their rescheduled preseason tryout session this weekend. OCFC will be welcoming more than 50 players to Clawson Stadium in hopes of making the team. First year coach Darryl Evans and assistant Derek Peters will be looking for diamonds in the rough to add to the season roster. The 2018 tryout will now be a one-day affair after both tryout sessions were postponed due to inclement weather conditions last weekend.
Oakland County FC's tryouts will now be held on Saturday from 4:00-7:00 PM. Clawson Stadium is located in the heart of Clawson, at 935 N. Custer Ave. Players who rise to the occasion and earn a spot on the 2018 OCFC roster will become a part of Oakland County FC history. The club will wear their first ever Supporters' Trust selected jersey, while playing their first season as a supporter-owned club.
---
OCFC will play in it's first season in the United Premier Soccer League (UPSL).
The nation-spanning UPSL expanded to the region after the 2017 season, and created the UPSL's Midwest Conference – East region. The division consists of six teams; four teams from Michigan, and one each from Indiana and Ohio. Oakland County FC will kickoff their home opener on May 12, against the Indiana Old Bhoys at 7pm. Tickets can be purchased here.
---
About Oakland County FC
Oakland County Football Club is a Semi-Professional soccer team dedicated to providing a remarkable on-field product as well as an unforgettable game day experience. OCFC will strive to bring high-level soccer and entertainment to Oakland County and surrounding communities. Additionally, we aim to cater to every audience, both youth and adult. OCFC's long-term vision is to create a community backed club sponsored by both local and regional organizations, which will give back to the residents of the community in the form of pride and involvement.