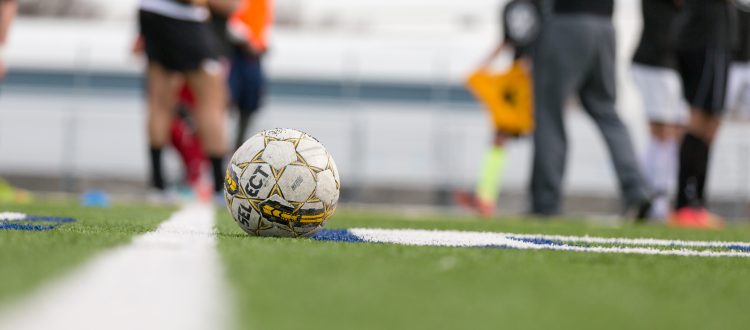 Opportunity Awaits: 8 Trialists Invited to Training
Written by Robert Kerr, Staff Writer
—
Oakland County FC was finally able to hold their 2018 tryout session and welcome participants to Clawson Stadium on the afternoon of Saturday, April, 21. The day was unrecognizable to that of the originally planned sessions, where rain, ice, and wind forced OCFC to postpone the tryout event. Under a hazy sun and a cool breeze, more than 40 players from across the region were able to hit the field. With OCFC staff and well-wishers on hand to watch, the hopeful players battled for a chance to join the 2018 squad.
Head Coach Darryl Evans had a clear message to the players as to what he was looking for as he addressed the group, both before and after the tryout. "I am looking at fitness, the first touch, passing, movement off the ball. I'm also looking at your decision making, especially with our first drill. Looking if are you checking over your shoulder to turn with the ball. And If you loose the ball, are you getting back to get into position?"
Coach Evans put the hopeful players to the test in a two part session. To open the tryout, the group was split in half to participate in fast paced, three versus two attacking drills. Each group at opposite ends of the field, attacking each goal. The session then became a full sided scrimmage in the latter stages as coaches split the full group into three teams. Intensity and passion ramped up as the session progressed. The group of players did their utmost to make a positive impression with their limited time in front of the OCFC coaches. While there were a few spirited challenges during the scrimmage, smiling faces and friendly camaraderie were always present throughout the session.

"I knew that it was going to be competitive out there, 80 percent of these guys have played at an okay level before" said coach Evans shared as players began packing up to head home. "Things you need to see here are the players soccer IQ, and their playing habits." The bad habit of  "loosing the ball and not getting back" was mentioned repeatedly by the new OCFC head coach. "You want to see if guys are able to get in the same kind of shape as our squad. So we are going to invite 8 players back to our training, and see them play with our group for a week or two, to see if they can really do it or not."
The full gallery can be viewed here.
Several new faces at this year's open tryouts. Training invites have been sent! Check out the full gallery here: https://t.co/pDYDaYfCeK. #BleedPurple

📸: @Arsenal4ddict pic.twitter.com/cO7JLHxYHA

— Oakland County FC (@OaklandCountyFC) April 23, 2018
The players who earned an invitation  will join OCFC in training this week as the team prepares for their debut season in the United Premier Soccer League (UPSL). The 2018 season will also be Oakland County FC's first in Clawson, as a supporter-owned team.
---
The nation-spanning UPSL expanded to the region after the 2017 season, and created the UPSL's Midwest Conference – East region. The division consists of six teams; four teams from Michigan, and one each from Indiana and Ohio. Oakland County FC will kickoff their home opener on May 12, against the Indiana Old Bhoys at 7pm. Tickets can be purchased here.
---
About Oakland County FC
Oakland County Football Club is a Semi-Professional soccer team dedicated to providing a remarkable on-field product as well as an unforgettable game day experience. OCFC will strive to bring high-level soccer and entertainment to Oakland County and surrounding communities. Additionally, we aim to cater to every audience, both youth and adult. OCFC's long-term vision is to create a community backed club sponsored by both local and regional organizations, which will give back to the residents of the community in the form of pride and involvement.