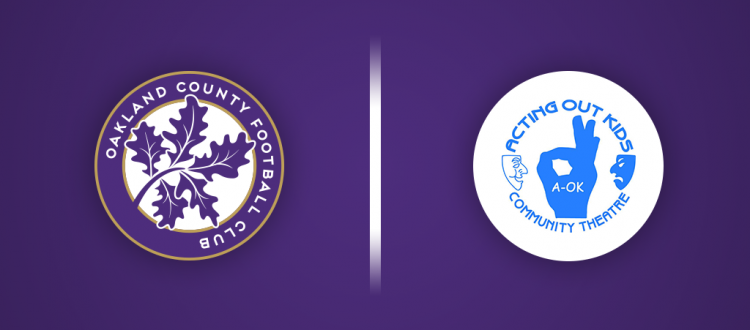 OCFC Welcomes AOK Theatre/Awesome Clawson Kids as Community Partners
Oakland County Football Club is pleased to welcome Acting Out Kids Community Theatre and Awesome Clawson Kids as newest Community Partners!
AOK and ACK, in collaboration, will be creating promotional videos for the club as well as teaming up and offering community events for kids and families throughout the community.

Everyone is so happy and excited that OCFC is coming to Clawson and we are thrilled about all of the positive feedback! The kids can't wait get started with the club." Nicole Siwak, AOK Theatre
OCFC ownership will be working directly with both organizations throughout the season to help best promote their work throughout the community. Special events with the clubs will be announced as early as this week.
The Clawson community continues to welcome us with open arms. We've been really impressed with [AOK and ACK] passion and admire what they are doing! This will be a really fun partnership." Theo Foutris, Co-Owner
---
Acting Out Kids Community Theatre
Acting Out Kids Community Theatre (AOK) is an inclusive, youth-centered performing arts theatre and production studio dedicated to developing talents and confidence. Acting Out Kids Community Theatre offers plays, dinner theatre, films, YouTube and local cable TV shows, local commercials, classes, workshops, camps, field trips, community events and social events. At AOK, kids have an opportunity to build their confidence and develop skills such as acting, improv, public speaking, leadership, taking initiative, working as a team, mentoring their peers, being creative, and so much more! Kids are also provided with hands-on experiences and are involved in all aspects of helping to run the theatre. Kids are encouraged to be kids, to use their imaginations and most importantly, to have lots of fun in a safe, friendly, casual and noncompetitive environment.
For more information, please visit their website at aoktheatre.org or contact us anytime at actingoutkids@yahoo.com.
Awesome Clawson Kids
Awesome Clawson and Awesome Clawson Kids are two local cable TV shows that highlight the people, businesses, organizations and events in Clawson.
If you would like to be a guest on the show or if you have an event that you would like to promote, please contact the Awesome Clawson Kids (Madison and Max Siwak) at awesomeclawsonkids@yahoo.com or send us a message on Facebook on the Awesome Clawson Kids Facebook page.
---
About Oakland County FC
Oakland County Football Club is a Semi-Professional soccer team dedicated to providing a remarkable on-field product as well as an unforgettable game day experience. OCFC will strive to bring high-level soccer and entertainment to Oakland County and surrounding communities. Additionally, we aim to cater to every audience, both youth and adult. OCFC's long-term vision is to create a community backed club sponsored by both local and regional organizations, which will give back to the residents of the community in the form of pride and involvement.