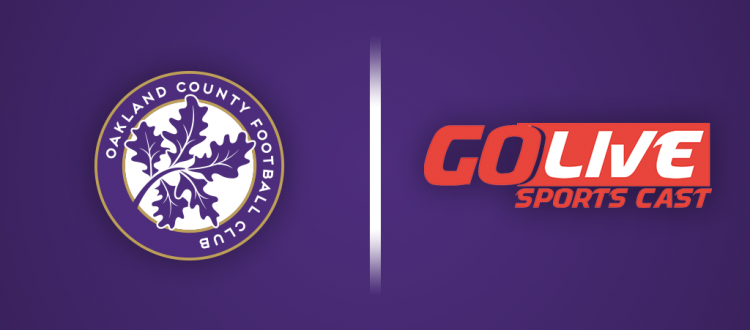 Live Broadcasting Set for all 2018 OCFC Home Matches
On Wednesday, April 25, OCFC Ownership announced that the club has struck a partnership agreement with Go Live Sports Cast and parent company Soundque Entertainment to live broadcast all 2018 Oakland County Football Club home matches.
This is a monumental step in our growth as an organization. We will now be able to showcase our product on a national scale and our players will be seen by a much larger audience. Our platform for those who aspire to move to the next level has been dramatically enhanced. – Theo Foutris, Co-Owner
All seven home matches will be broadcasted on the Go Live Sports Cast site which is also available on Apple TV and ROKU. The 2018 OCFC season begins on May 12 and concludes at the end of July.
We really can't wait to get started. Giving the players and the fans a new viewing platform for this club will be a great addition to our roster of sports leagues and clubs. – Frank Mazzella, GLSC President, owner of Soundque Entertainment
Jeremy Otto and Brendan Johnson will serve as the club's play-by-play commentators.
Jeremy Otto
Jeremy is in his ninth year of broadcasting where he has served as a sports information student assistant and broadcaster at Marygrove College and Madonna University. He is also entering his fifth season calling the Catholic High School League Game of the Week on FM 101.5 and AM 1400 the Patriot.
Brendan Johnson
Brendan is in his sixth year of broadcasting where he also served as a sports information student assistant and broadcaster at Marygrove College and Madonna University. He is the current host of CHSL Drive Home on FM 101.5 and AM 1400 the Patriot.
I've been very familiar with Jeremy and Brendan's work for quite some time. They are two of the best in the business and we couldn't be more thrilled to have them on our team. Fans will be graced by their exceptional professionalism come gameday. – Nick Morana, Co-Owner
Oakland County FC will kickoff the season on May 12, against the Indiana Old Bhoys at 7:00 PM. Tickets can be purchased here.
---
Go Live Sports Cast
Go Live Sports Cast is an online and IPTV destination for Internet Broadcast sports including Pro arena soccer, baseball, indoor football, soccer, Boxing and MMA, hockey, basketball and other sports. Call us at 1-734-675-7325, or visit http://www.GoLiveSportsCast.com to get your game on the air. GLSC is a subsidiary of Soundque Entertainment Inc. in Michigan. Producing  live Internet video streaming since 2004, we provide full production services and broadcasting, distribution A/V rentals, marketing, media buys, and media planning to offer our clients a better online experience.
---
About Oakland County FC
Oakland County Football Club is a Semi-Professional soccer team dedicated to providing a remarkable on-field product as well as an unforgettable game day experience. OCFC will strive to bring high-level soccer and entertainment to Oakland County and surrounding communities. Additionally, we aim to cater to every audience, both youth and adult. OCFC's long-term vision is to create a community backed club sponsored by both local and regional organizations, which will give back to the residents of the community in the form of pride and involvement.