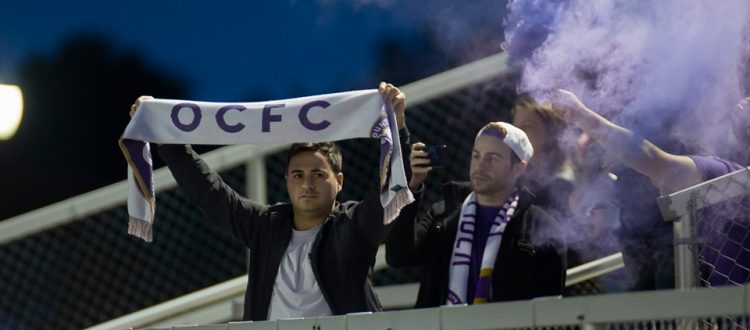 Match Preview: OCFC vs Michigan Jaguars
Written by Robert Kerr, Staff Writer
—
Oakland County FC hosts the Michigan Jaguars, to a cross-county battle, under the Friday night lights at Clawson City Park Stadium. Tonight's game is the fifth of eight OCFC home games presented by Diversified Members Credit Union. County return to action just 48 hours after their midweek triumph over AFC Ann Arbor in the Michigan Milk Cup. The team will be looking to translate their excellent form in the knockout tournament into a much needed win in league play.
The Purple Gang will look to shake off their 3-0 loss in the season's first meeting between the two clubs. OCFC's June 1st loss to the Jaguars was County's first defeat of the season, and was the club's only multi-goal deficit of the year. The match was played under unusual circumstances, too, as it was delayed and relocated to an indoor venue, at kickoff, due to approaching storms. A win on Friday night, would give County a huge three points, and a big confidence boost, heading into July.
The Michigan Jaguars haven't fared much better since the teams June 1st encounter. The Novi, MI based club, will be looking to get back into the win column themselves, after back-to-back defeats in UPSL action. Both teams will no doubt be hungry for a win against their cross-county foes.
OCFC's leading scorer, Mike Melaragni, will have his fitness and durability put to the test Friday. The Western Michigan Bronco played a full 90 minutes, in a physical battle against Ann Arbor. The striker was immense throughout the game, scoring his seventh of the season for County, to win the game. The coaching staff used all of their available substitutions, Wednesday, with an eye to keep the squad as fresh as possible against the Jaguars.
---
OCFC Collecting Donations for those in crisis
This Friday, we welcome charity partner #CommonGround to Clawson Stadium! They will be collecting donated items for their Crisis Center in Royal Oak. There will be a collection box right outside the main gate.

For more info on CG, please visit https://t.co/frdZOEXVsB. pic.twitter.com/6AP5pN38vc

— Oakland County FC (@OaklandCountyFC) June 26, 2019
Oakland County FC welcomes Common Ground to Clawson! Common Ground is a nonprofit organization that has been helping people in need for over 45 years. Through their 24-hour crisis line and in person, Common Ground provides professional and compassionate service to more than 80,000 people each year. Dedicated to helping runaway and homeless youth, victims of crime, people with mental illness, adults, and others in critical situations, Common Ground has become a lifeline for Oakland and Genesee County residents. In addition to donating a percentage of the games proceeds to Common Ground, OCFC encourages fans and neighbors to bring items for donation to Common Ground's Crisis Center in Royal Oak. More information on donations and services can be found at commongroundhelps.org
The Oakland County FC experience, presented by Diversified Members Credit Union, continues beyond the final whistle. Zeoli's Italian, in downtown Clawson, at 110 E 14 Mile Road, is the official OCFC match day bar. Zeoli's is serving $1 beers, during every match day, in 2019! Socialize, dine, and cheer with your fellow fans, before and after the game. Tickets can be purchased HERE.