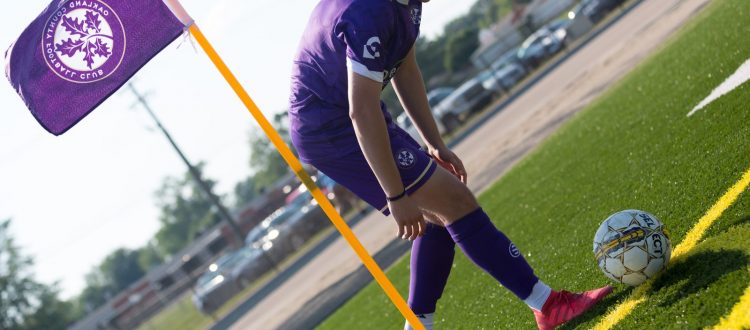 Match Preview: A West Side Story
Written by Robert Kerr, Staff Writer
—
Oakland County FC is set to take on the Muskegon Risers this Saturday night in their annual rivalry series. Every OCFC home game in 2019 is presented by Diversified Members Credit Union. County are unbeaten in their last three games, and will be looking to stay sharp ahead of the rescheduled Michigan Milk Cup Final. Come support Michigan's sole supporter-owned team as it takes on one of Michigan's most intriguing sides.
Year 4️⃣ of our rivalry with the @MuskegonRisers kicks off this Saturday, 7/11.

TICKETS 🎟️ | https://t.co/UMGVBUzjqt#BleedPurple | #OCFC | #Grassroots pic.twitter.com/it8IfzPOJY

— Oakland County FC (@OaklandCountyFC) July 11, 2019
Saturday's opponent from the shores of Lake Michigan, roll into Clawson on the cusp of a new era. The Muskegon Risers are set for a move to play in the NPSL in 2020, and have are building new women's Risers side, set to kickoff in August. Muskegon and OCFC have a significant past, within both clubs short history. The Risers were actually County's fist ever opponent, as Muskegon visited OCFC in 2016 for an exhibition match, which served as the first ever game County ever competed in. On that day, winger Mario Morana scored an 85th minute, game-winning goal from a free kick, to give OCFC a winning start. County will be looking to even up the all-time series between the two clubs, which currently sits at 2-3, ahead of Saturday's game.
On matchdays during the season, OCFC welcomes our partners, from out in the community, into our games. This week, we welcome guests from Clawson based Acting Out Kids Community Theatre, and the Royal Oak Animal Shelter. AOK is an inclusive, youth-centered performing arts theatre and production studio, dedicated to developing talents and confidence for kids ages 3 ½-18. ROAS' goals are to provide a safe haven for lost animals or animals given up by their owners; to reunite lost animals with their human companions, and to provide the best possible adoptions of available animals into the home best suited to their personalities.
Throughout the season, we welcome Diversified Members Credit Union, who have not only become the club's title sponsor, but a fantastic partner and advocate in 2019. More special thanks go to all of our game day sponsors, and of course, the OCFC Supporters' Trust. Thanks to all for supporting and for sharing in the Oakland County FC experience.
The OCFC experience, presented by Diversified Members Credit Union, continues beyond the final whistle. Zeoli's Italian, in downtown Clawson, at 110 E 14 Mile Road, is the official OCFC match day bar. Zeoli's is serving $1 beers, during every match day, in 2019! Socialize, dine, and cheer with your fellow fans, before and after the game.
Visit oaklandcountyfc.com for post-match reviews, highlights, galleries, and more! Follow us on Twitter, Facebook, and Instagram, to find exclusive offers and the latest content.