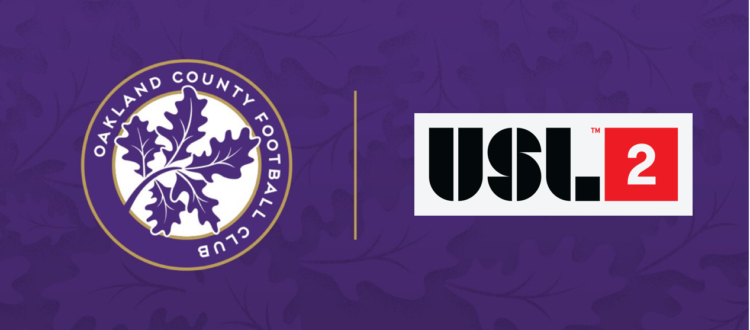 OCFC Joins USL League Two
The United Soccer League (USL) announced today that Oakland County FC will become the newest member of USL League Two, as it joins for the 2020 season.
A NEW ERA BEGINS. We are pleased to be announced as the newest member of the top pre-professional league in the country, @USLLeagueTwo.#BleedPurple | #Path2Pro | #DiamondInTheRough pic.twitter.com/0ecF0ppCMh

— Oakland County FC (@OaklandCountyFC) November 5, 2019
"Oakland County is a great example of a club creating a positive impact in its community by actively engaging its fans," said Joel Nash, Vice President of USL League Two. "With League Two's similar emphasis on providing the best possible platform for teams to connect with their communities, Oakland County is a perfect addition to the league."
In joining USL League Two, Oakland County FC will offer a proven pathway to professional soccer for its players, both those at the elite collegiate level and the top academy-age players from the region. On top of the valuable experience of playing in the nation's most competitive pre-professional environment, League Two also provides growth opportunities for its coaches, executives and communities.
"We couldn't be more excited for this move and what it means for our players," said Oakland County FC Co-Owner Nick Morana. "But most importantly, this move will be fantastic for our fans. Our club is evolving through adversity, and we are more than ready for this new era."
#BleedPurple. Welcome to USL League Two, @OaklandCountyFC!#Expect2Expand | #Path2Pro pic.twitter.com/tYpFIpdVfr

— USL League Two (@USLLeagueTwo) November 5, 2019
"With the ever-changing American soccer landscape, the move to USL League Two will position our club in the country's proven elite pre-professional league," said Oakland County FC Co-Owner Theo Foutris. "We look forward to our club's continued growth as a member of League Two."
From our inception in 2014, it has been a yearly goal to bring the best entertainment and soccer talent to Oakland County and surrounding communities. With this move to USL2, it further solidifies OCFC as one of the premier organizations in the state and country.
Additional 2020 information, including events, scheduling and community efforts will be released in the coming months.
---
About USL League Two
A part of United Soccer Leagues, LLC, which also operates the USL Championship, USL League One, Super Y League and the new USL Academy, USL League Two is the top pre-professional soccer league in North America, offering a summer platform for aspiring professionals across the United States and Canada. More than 70 percent of all MLS SuperDraft selections since 2010 have League Two experience, including 66 alumni chosen in 2018 and 61 in 2019. Werder Bremen's Josh Sargent, Newcastle United's DeAndre Yedlin, and Atlanta United's Brad Guzan are among the many U.S. National Team players to have competed in USL League Two before making their professional debuts.