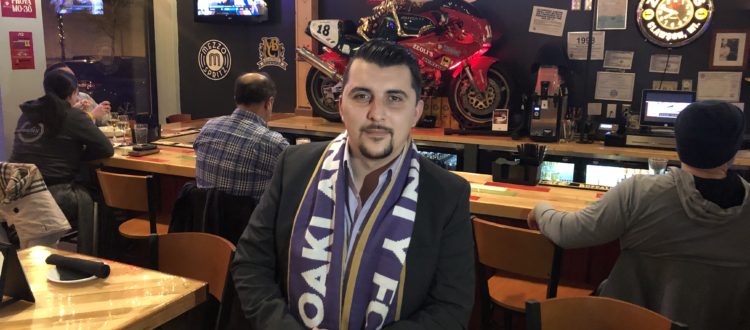 Oakland County Football Club Names Vinnie Vasilevski as Head Coach
Oakland County Football club today announced the hiring of new head coach Vinnie Vasilevski.
Vasilevski will lead Oakland County FC in its inaugural 2020 USL League Two season after recent stops as assistant coach at both Northwood University and University of Michigan-Dearborn; Vasilevski also serves as the current Romeo High School varsity head coach.
Prior to entering the coaching realm, Vasilevski played collegiately at Tiffin University ('06 & '07), Saginaw Valley State ('08), and Northwood ('11) with a one and a half year professional stint in Sweden with IFK Trelleborg ('09-'10).
"When we interviewed Vinnie for the first time, we instantly became enamored with his vision and love for the culture we are trying to build," said Theo Foutris, Co-Owner. "All-in-all, Vinnie is a perfect complement to where we've been and where we are striving to go with our recent transition to USL League Two. We're thrilled to have him on board and excited for this new chapter for the club."
Coach Vasilevski aims to have his full staff in place by early January. We also would like to welcome Vinnie's wife Danielle and daughter Viviana to the OCFC family.
"I love the grassroots approach by this club and honored to be part of the vision moving forward", Vasilevski said, "this team is going to show hard work, energy, and enthusiasm, all while making our community proud to be supporters. Thank you to Theo and Nick for this opportunity; I'm very excited to begin competing at the USL 2 level.

"Our highly competitive roster will not just be looked at as the 'new team on the block', but as a formidable squad ready to make its name in the premier pre-professional league in the United States."
Vasilevski joins Oakland County FC after the departure of Darryl Evans, who served as the club's head coach from 2018-2019.
2020 promises to be our biggest season to date. Full schedule release, partnership announcements and more set to be released in the coming months. Visit www.oaklandcountyfc.com for all news OCFC.
---
About Oakland County FC
Oakland County Football Club is a Semi-Professional soccer team dedicated to providing a remarkable on-field product as well as an unforgettable game day experience. OCFC will strive to bring high-level soccer and entertainment to Oakland County and surrounding communities. Additionally, we aim to cater to every audience, both youth and adult. OCFC's long-term vision is to create a community backed club sponsored by both local and regional organizations, which will give back to the residents of the community in the form of pride and involvement.