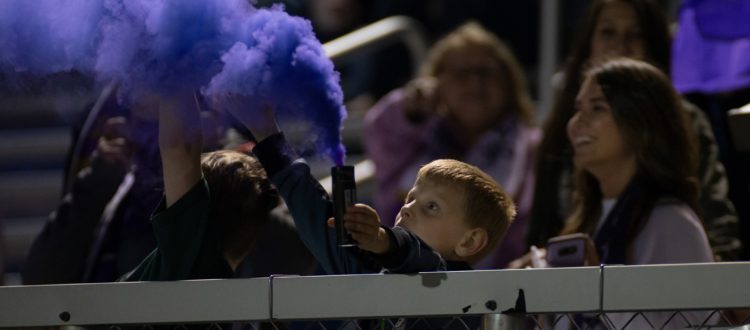 Cheers to a Bright Year Ahead: Memories Shared and Memories to be Made
Written by Robert Kerr, Staff Writer
—
We hope this message finds you well and full of hope for a brighter new year ahead. Like the holidays, soccer brings us together, builds traditions and creates new relationships. Lives that would otherwise not intersect, do, because of the game. To help spread some good holiday cheer, this season, we wanted to share some of the gifts that soccer gives us: reflections on those new traditions, bonds, and shared memories, which are a gift to us in their own right.
Collected here are a handful of notes and relayed memories sent in by supporters about their favorite moments and experiences of being OCFC faithful. In just a few short years, we already have a number of great moments and stories together.
Andreas; Oakland County FC Trust Member and a leader of the Elmwood Elite supporter group:
Over the past couple seasons, going to games, meeting new fans, and keeping up with all things purple has been a staple of my summers. Although the Lower League eCup, All-Time Player voting, and connecting with friends through the club has been a nice reprieve, there's no substitute for those nights in Clawson Stadium.

My favorite OCFC memory is the 2019 run to the Milk Cup Final, which culminated with the biggest game in the club's history that never was. After going on the road and picking up huge wins against Kalamazoo and Ann Arbor, we finally got to host USL2 giants, the Flint City Bucks. The weekend before the final, a few Elmwood Elite members met up to make our "The Buck Stops Here" tifo to mark the team's success. While the match never took place due to weather and scheduling conflicts, taking out two NPSL (now USL2 rivals) clubs, going to away matches with other fans, and getting crafty with the supporters' first tifo, made my summer. It's hard not to be amazed at where the club is today and the passion the supporters have for the organization, on and off the field.
A bright spot in yesterday's match was seeing our supporters' first ever #tifo 👏🏻 To be continued… pic.twitter.com/eLTvFYrwaR

— Oakland County FC (@OaklandCountyFC) July 3, 2019
---
Mary; OCFC season ticket holder, and local sports fan, wrote a nice note about sharing her team with family:
I love introducing my family and friends to the game day festivities at Clawson Park.  Walking to the games is fun and I love hearing the loudspeakers as I approach the stadium. I'm always impressed with how much fun is packed in when you walk inside; and it is especially cool how many activities they have set up for kids. The fact that our little town can support a team is amazing, and I love watching the high quality of play here.
Jacob; passionate member of the 2019 intern team relayed countless stories from his exciting summer with the club:
Participating in the massive 4th of July parade in Clawson, playing with the kids at a world refugee day event, and being at every game, was awesome and worth it all. During the summer months with OCFC, I learned how connected the soccer world truly is with their fans and their community, and that there is in an unmistakable sense of camaraderie within sport that is like that of no other.
---
Scott; OCFC aficionado relays what his favorite memories from last summer were:
Helping put together and decorate the tifo with fellow OCFC supporters and going out to Zeoli's to have food and drinks with guys from both OCFC and Inter Detroit after the game were the best. I can't remember which table had started it, but we kept ordering rounds of drinks for each other's tables on-the-sly, and with the last round having come out just after Inter had already left…it was up to us to stay a bit later and make sure that no can of Stroh's was left unfinished at Z's!
---
Thank you to everyone who contributed their memories for this letter. We hope that these reflections of the fun and shared memories bring cheer to everyone this holiday season. Also, please take as a gift the knowledge that your friends, your neighbors, the game, and Oakland County FC will all be there waiting for you for the biggest season in club history as soon as we possibly can.
Wishing everyone the happiest of holiday seasons and a bright New Year from the Oakland County FC Family,
Oakland County Football Club