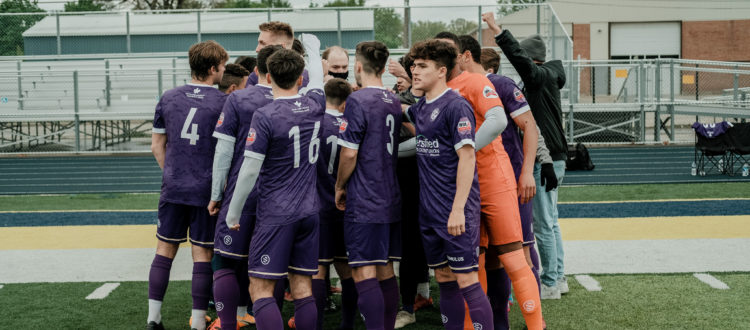 Match Preview: OCFC vs Cincinnati Kings Hammer
Composed by OCFC Writing Staff
—
Oakland County Football Club returns to Clawson City Park Stadium this Saturday night at 7 PM for their second match of the 2021 campaign. OCFC is hungry to continue their winning start to the season after a 3-0 Mother's Day victory. Energy from the County supporters was fantastic on the cold Sunday afternoon, so the forecasted summer-like Saturday night match should make for a party in the park. 
County will take on Cincinnati Kings Hammer, who made headlines with a spectacular winning goal in their opening match but recently faltered to Kalamazoo FC, 4-2, before arriving at Clawson City Park Stadium Saturday. Cincinnati will have to contend with OCFC's reigning "Man of the Match", and 2019 Big Ten offensive player of the year, Nash Popovich. The Rochester, MI native is coming off a two-goal debut performance, and stated post-game he felt he could improve even more in the next game.
Coach Vinnie Vasilevski says he is thrilled by his team's defensive tenacity, which earned an opening day shutout. The first year OCFC boss is looking forward to seeing the offense match the same high level of play. Eight new players broke into the starting lineup on opening day, and more players arrived to camp this week. There is now real and fierce competition for places in Saturday's match day squad. 
A change in the starting XI ⁉️

Coach Vinnie addressed it post-game vs. Fort Wayne.

Check out all the post-game comments » https://t.co/By8QWp6cqx pic.twitter.com/pqE7W1fR2D

— Oakland County FC (@OaklandCountyFC) May 18, 2021
In addition to the action on the field, OCFC is proud to provide an entertaining gameday experience. Vendors, concessions, kids play zone, and post-game autographs, are amongst the OCFC game day staples. OCFC is a neighborhood-based, supporters trust owned club, and by far the most fun place to reconnect with our friends and neighbors. 
The County matchday experience extends beyond the stadium. Fans can meet, drink, and dine at Zeoli's Modern Italian, the official Clubhouse of Oakland County Football Club. The local family-owned restaurant, located in downtown Clawson, rolls out the "Purple" carpet for OCFC fans. The Purple Gang can really ball out with amazing deals every matchday, including ONE DOLLAR BEERS!
MATCHWEEK has arrived! We're back home for match ✌️

📅: Saturday, May 22
🏟️: Clawson Stadium
🎟️: https://t.co/O9ZxFa0Vz7#BleedPurple pic.twitter.com/nIr4tfXxaD

— Oakland County FC (@OaklandCountyFC) May 17, 2021
For tickets to Saturday, May 22's game at Clawson City Park Stadium CLICK HERE.
Stay up to date with all things OCFC by following the club on
Facebook
,
Twitter
, and
Instagram
. Game broadcasts, video features, and highlights can be found on the OCFC YouTube channel. For
ticketing
and
apparel
and much more, visit
OaklandCountyFC.com
.