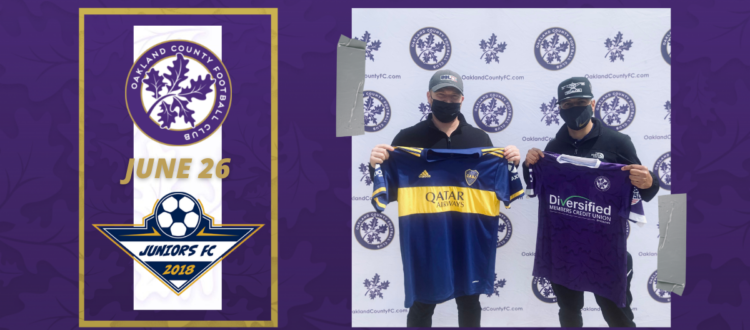 Oakland County FC to Host Juniors FC of Liga Mundo Latino in June Exhibition Match
Oakland County FC will host Juniors FC of Detroit's Liga Mundo Latino for a special exhibition match on Saturday, June 26 at 7 PM at Clawson Stadium. The 'friendly' will expose OCFC fans to the hidden treasure that is Liga Mundo Latino in an effort to continue to grow the local game in Southeast Michigan.
Single-game tickets for the June exhibition are currently on sale and can be purchased here.
Season ticket holders have the game automatically included in their 2021 packages.
Each season, OCFC attempts to set up a local 'friendly' or two in order to grow the game at the community level and give club's exposure to different regions of the state. Back in 2018, we hosted Livonia City FC of then the Michigan Premier Soccer League and in 2019 it was Inter Detroit of the current Midwest Premier League. Hoping this can be a staple of our season schedule, Juniors FC is the perfect club to host for this year's exhibition as a multitude of great players reside in their league.
Oakland County resumes league play this Saturday when they travel to South Bend for a 5 PM kickoff vs South Bend Lions as they look to get back into the win column.
Stay up to date with all things OCFC by following the club on Facebook, Twitter, and Instagram. Game broadcasts, video features, and highlights can be found on the OCFC YouTube channel. For ticketing and apparel and much more, visit OaklandCountyFC.com.