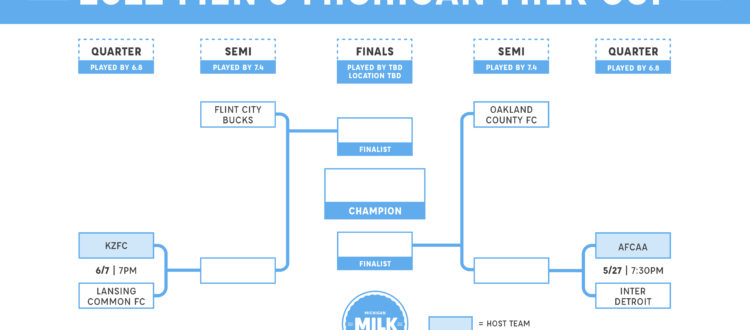 Michigan Milk Cup Returns for 2022
By Fletcher Sharpe (Milk Means More)
After almost a three year gap in playing time, one of Michigan's up and coming amateur tournaments is coming back in 2022.
The Michigan Milk Cup is back this summer with a few new teams. The last time the tournament was played in 2019, the initial date for the men's Milk Cup Final was canceled due to severe thunderstorms, and with not enough time left in the calendar year for either team, the choice was announced to label both the Flint City Bucks and Oakland County FC as co-champions. The women's side of the tournament produced fireworks by comparison, as after a close start to the final, Motor City FC proceeded to blow out Detroit Sun 7-0 at the Total Soccer Complex in Novi, Michigan, punctuated by a brace from Yujie Zhao. Zhao, who recently won the NCAA Women's Championship with Florida State, had an impactful afternoon, scoring in the 60th and the 89th minute. She also contributed three assists on the day, two of them to Stanford standout Civana Kuhlmann.
This year's version of the Men's tournament welcomes the flashing green kits of Inter Detroit, as well as supporter built (and run) upstart Lansing Common FC, both by way of the Midwest Premier League. They join co-champions Flint City Bucks and Oakland County FC, as well as one-time champion AFC Ann Arbor, and Kalamazoo FC, all four clubs by way of the USL League Two.
The Women's will feature returning club AFC Ann Arbor, who will be joined by three new clubs. They include regional powerhouses Midwest United FC (Kentwood, MI), Newly formed Kalamazoo FC, and newly merged Flint City AFC, which was formed through a partnership of the Flint City Bucks and Corktown AFC, formerly of Detroit. All four clubs compete in the newly created USL W League's Great Lakes division.
The Milk Cup presents a unique opportunity to watch high level local teams who might not always get to play each other every year in one tournament. It also allows for local fans to get a glimpse at seeing future professional players. From the 2018 Men's Championship alone, there were at least 14 players who stepped on the field that day, who went on to play professional soccer afterwards, spanning from stars in Major League Soccer like DeJuan Jones (Lansing United) of New England Revolution, MLS Draft starlets like Farai Mutatu (Lansing United) who was recently drafted 21st overall by the LA Galaxy, players who have carved out solid careers in the USL Championship like Loudon United's Azaad Liadi, and Pittsburgh's Marc Ybarra, formerly of AFC Ann Arbor, and San Diego's Ebenezer Ackon of Lansing United. Some players have been making consistent  headlines in NISA, as well, like Chattanooga's Kyle Carr (Lansing United), and Chicago's Mike Novotny (AFC Ann Arbor). Some players have even taken their talents overseas, such as Bromley's Jack Cawley (AFC Ann Arbor) in England, and Stanley Okumu (AFC Ann Arbor) of K.A.A. Gent in Belgium. Okumu has taken it a step further, and worn the colors of his national team Kenya, as well.
The men's bracket kicks off on May 27th as AFC Ann Arbor welcomes Inter Detroit at 7:30pm with the winter advancing to play Oakland County FC. Kalamazoo hosts Lansing Common on June 7th at 7 pm, with the winner advancing to play Flint City. If the winner of either of the quarterfinal matches ends up being a USL League Two club (AFCAA, KZFC), the match will be played when the ensuing match occurs during USL League Two play. Otherwise, the matches will be played by July 4th. The date and location of the Men's final is TBD.
On the women's side, Flint City AFC hosts Midwest United on June 24th, at 7pm, while Kalamazoo will host AFC Ann Arbor the following day at 7 pm, as well. As all four clubs are members of the USL W League, these matches will also be USL W League matches as well. As with the mens, the date and time of the women's final is TBD.
Both winners will receive $5,000 with both runner-ups receiving $1,500 totaling the prize pot at $13,000.
Click here to view the women's bracket. Click here to view the men's bracket.