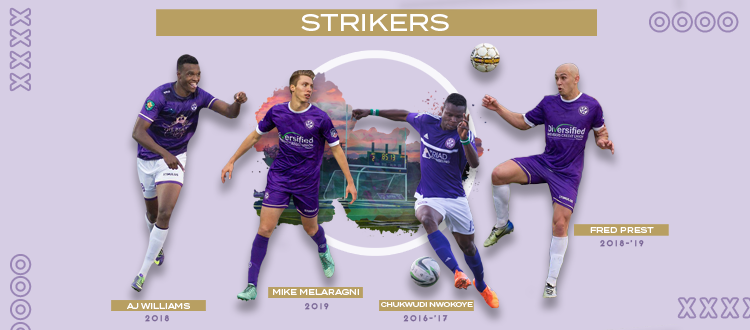 Vote For The All-Time OCFC Roster: Strikers
Written by Robert Kerr, Staff Writer
—
The concluding piece of our fantasy roster born from our "no soccer summer" has arrived. The final position to be revealed for the Oakland County FC All-Time Roster is that of the striker. The forward position is the icing of the team's construction. They are not within the base, but their quality makes or breaks the entirety of the construct. Like goalies, their evaluation can be singular. Many facets of a striker's play can be overlooked, with focus usually on their top objective. Their number one task? Scoring goals. Oakland County FC are proud to have featured every one of the All-Time Roster selections, and honored to have had these players don the County crest. Their origins span from far away countries, to right here in here Oakland County. All playing together, as one, for our community owned team in suburban Detroit.
Alphabetically listed, they are: Mike Melaragni (2019), Chukwudi Nwokoye (2016-'17), Fred Prest (2018-'19), and AJ Williams (2018).
Over the next three days, supporters can vote via the poll below or on our Twitter page. The top vote-getter will be named as the starter in our final XI.
---
Mike Melaragni (2019)
The breakout star of OCFC's 2019 campaign, "Big" Mike Melaragni led the line brilliantly. Michigan's 2017 Mr. Soccer award winner brought speed, strength, and cool finishing, to OCFC. The towering forward also displayed superior fitness, starting in 11 of the club's 16 fixtures last summer. These top qualities, as well as his eight goals, made his the first name on the team sheet, week after week.
Here's a full look at the sequence that led up to @mikemelaragni simply bulldozing his way in for the game winner. 😮 #BleedPurple pic.twitter.com/K6gdLpGsVY

— Jack-OCFC-Lantern 🎃 (@OaklandCountyFC) June 27, 2019
Melaragni was set to return to OCFC in 2020, and relates that his favorite OCFC memory, so far, as his late game-winning goal, in the Milk Cup semi-final. The 88th minute strike against AFC Ann Arbor, put the club through to its first ever final. Melaragni says he has sorely missed the OCFC gameday atmosphere and that he has his fingers crossed for a spring college soccer season at Western Michigan University.

---
Chukwudi Nwokoye (2016-'17)
Oakland County FC's first-ever international signing, Chukwudi "Chuks" Nwokoye, came to the club following four prolific seasons in the Nigerian National League. The Nigerian forward displayed great technical ability, vision, and goals, to County's debutant team. The striker, who had represented Nigeria at the U-17 level, also brought fantastic personality and humble dedication to our newly formed club. The striker scored 6 goals in 18 OCFC appearances.
Two gems from Nwokoye 'Chuks' Chukwudi gave us the W in our first bout vs. @toledovillafc. What will match 2 have in store? #BleedPurple pic.twitter.com/zV81jLhKfN

— Jack-OCFC-Lantern 🎃 (@OaklandCountyFC) July 11, 2017
Chukwudi notes his favorite OCFC memory as a 2016 road trip to Chicagoland. A trip in which the team played twice in three days, and got to spend time as tourists together in the city. The forward is still an active player, and now lives in Seattle, WA., where he coaches youth soccer.

---
Fred Prest (2018-'19)
The showman of the group, Fred Prest added a unique flair and creativity to OCFC. The Brazilian-born forward is also a remarkable study in fitness and self-improvement. Fred worked his way from OCFC reservist, to an All-Time selection. Improving with every appearance, Fred wowed in County purple, last summer. Dangerous from both central and wide areas, the forward provided great entertainment. He is a player full of speed and creativity, always willing to take a shot at goal.
Fred relays that his favorite OCFC memories, so far, are scoring twice against Kalamazoo FC in the Milk Cup, and celebrating with his visiting nieces, after 2019's final game. The Rio Di Janeiro native was set to return to OCFC in 2020. He has been staying active, spending his 2020 as a youth soccer coach, and expanding his online training business. Fred is doing his best to stay sharp on the field, playing in the Detroit Mexican League and making it through to the league's Final this past weekend.

---
AJ Williams (2018)
His spell with OCFC was brief, but Antonio "AJ" Williams made a big impact. Arriving to County on-the-back of his impressive junior college season at the University of North Florida, the Saginaw, MI striker made an instant impact. The tall and lean forward officially joined County June 6th, 2018, and made his debut just two days later. Williams recalls his OCFC debut as his number one Oakland County memory. No wonder, as the forward wreaked havoc scoring twice in front of a festive crowd at the Carpathia Club, on June 8th, 2018.
OPTION 2: @MMorana23 to @a_williams97 pic.twitter.com/POEhRo6IjT

— Jack-OCFC-Lantern 🎃 (@OaklandCountyFC) June 12, 2018
Williams has since completed his college soccer career. He is currently working as a personal trainer, as well as working towards a doctorate of physical therapy.

---
Cast your vote below (top selection will be named a starter in our final XI):
AJ Williams (92%, 1,033 Votes)
Fred Prest (4%, 43 Votes)
Chukwudi Nwokoye (3%, 34 Votes)
Mike Melaragni (1%, 16 Votes)
Total Voters: 1,126

Loading ...
---