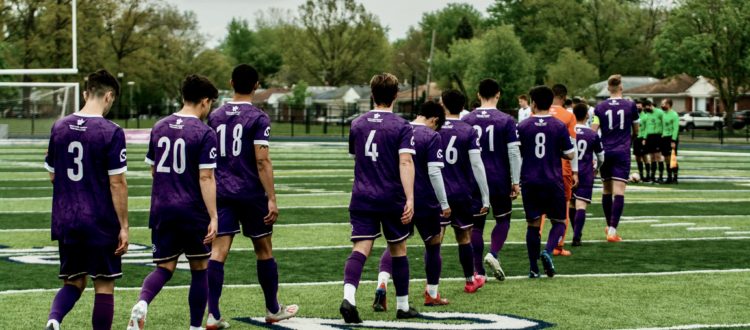 Match Preview: Paint the City Purple
Composed by OCFC Writing Staff
—
Oakland County Football Club returns to Clawson City Park tonight at 7 PM in a cross-state clash against Grand Rapids FC. For a second time this week, Clawson Stadium's lights will be on, following OCFC's 3-2
win over Kalamazoo FC
Wednesday night. County will look to build off the midweek win to continue their charge to the top of USL League 2. All 2021 Oakland County FC games are presented by Diversified Members Credit Union.
Heading into Saturday's game, a few players have been on a hot streak. County keeper Max Loria has made an immediate impact in the last two games. The Sterling-Heights native made his debut coming on in the second half against Fort Wayne over the holiday weekend, and made a save so stunning, it left both his teammates and opponents with their hands on their heads. The save was noticed, as was nominated for USL League 2's save of the week. Loria repeated his high performance levels from the start on Wednesday night, and even produced a mirror image save to the one on Sunday. Through his first game and a half for OCFC, Loria has recorded nine saves, and only allowed three goals. 
Week 4 of #Path2Pro delivered on jaw-dropping saves🔽@GBVoyageursFC's Antonio Chavez-Borrelli @RealCentralNJ's Max Blacker@OaklandCountyFC's Maximilian Loria@morriselite's Andrew Schweizer@kingshammerfc's Scott Williams

Vote: https://t.co/echNLgPajI pic.twitter.com/F4lWWkTGQ7

— USL League Two (@USLLeagueTwo) June 1, 2021
Another player taking strides forward this week is forward Tony Rizzo. The Hartland, MI. native has scored two goals from five shots over the last three games. Rizzo found himself in plenty of space on the right wing against Kalamazoo FC Wednesday night, and made the most of it. The Western Michigan Bronco delivered by scoring the opening OCFC goal and beautifully assisted the match winning tally.
We had some fun in the rain last night 😎

📸 | Denise Allen pic.twitter.com/XeT1vPp5ZQ

— Oakland County FC (@OaklandCountyFC) June 3, 2021
Grand Rapids FC now visits Clawson having earned zero wins, three ties, and one loss. Led by leading scorer Mathew Cornish, GRFC is looking to increase their offensive output, as they have yet to score more than two goals in a game. While their offensive shortcomings have led to three draws, their defensive intensity has kept them in every game. The most they have allowed in a game so far is three, and have been supported by impressive goalkeepers Tor Erik Valderhaug Larsen and Joe White. Valderhaug Larsen's ten saves and two goals against have been an integral part of GRFC's defensive effort. Keeper Joe White has been solid when called on, recording 6 saves and four goals allowed in his two games played. 
We go again this Saturday as @grandrapidsfc pays us a visit.

⌚️: 7 PM (Gates open at 6 PM)
🏟: Clawson Stadium (935 N Custer Ave, Clawson)
🎟: https://t.co/rpnRYIyKVb#BleedPurple pic.twitter.com/M3Pppf9jJb

— Oakland County FC (@OaklandCountyFC) June 3, 2021
In addition to the action on the field, OCFC is proud to provide an entertaining gameday experience. Vendors, concessions, kid's play zone, and post-game autographs, are amongst the OCFC game day staples. OCFC is a neighborhood-based, supporters trust owned club, and by far the most fun place to reconnect with our friends and neighbors.
The County matchday experience extends beyond the stadium. Fans can meet, drink, and dine at Zeoli's Modern Italian, the official Clubhouse of Oakland County Football Club. The local family-owned restaurant, located in downtown Clawson, rolls out the "Purple Carpet" for OCFC fans. The Purple Gang can really ball out with amazing deals every matchday. Including ONE DOLLAR BEERS!
Stay up to date with all things OCFC by following the club on Facebook, Twitter, and Instagram. Game broadcasts, video features, and highlights can be found on the OCFC YouTube channel. For ticketing and apparel and much more, visit OaklandCountyFC.com.