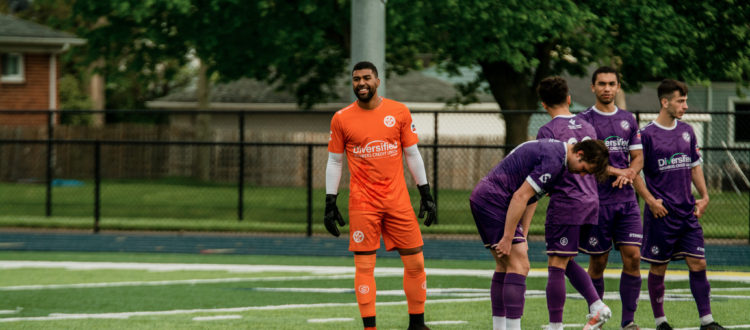 Match Preview: New 90. Same Mission.
Composed by OCFC Writing Staff
—
This Friday Oakland County Football Club is returning home to Clawson FIeld at 7 PM in a contest against the Dayton Dutch Lions. The match comes nearly a week after County's impressive 1-0 road win against the South Bend Lions. The boys in purple look to keep the momentum they gained on the road with a win against Dayton.

For tickets, click here.
Tomorrow, we're back 🏠.#ForTheCounty pic.twitter.com/I5lZBmgUXD

— Oakland County FC (@OaklandCountyFC) June 17, 2021
Oakland County enters Clawson Field tied for fourth in the division with the Flint City Bucks. This game comes at a critical time, marking the mid-way point of the season. OCFC now look to move into the second half of the season with a positive record. As of now, County holds three wins, two draws, and two losses, totaling 11 points so far this season. 
The key to victory starts with the backbone of the team.  County's defense was stifling on the road and will look to make a major impact on the game. Goalkeeper Max Loria's season-high 10 saves last week secured the County win and handed the South Bend Lions their second loss of the season. In front of Loria are Inscho, Shannon and DJ Hooks who've played pivotal roles with their toughness and speed. The all-around defensive effort has provided County with two shutouts on the season.
Offensively, County has demonstrated that the "clutch gene" is with them this season, having scored four goals in the 80th minute and beyond. County midfielder Demetri Pilakos returns to the field after a one-game suspension, bringing some firepower back to County's offense. Pilakos has two goals on the season and is a constant nuisance for the opposing defenses with his ability to pressure in the final third. 
On the other side of the field, the Dayton Dutch Lions are seeking their first win of the season. In their previous games, they haven't demonstrated much firepower, recording just four goals through seven games. However, the dynamic duo of Vincent Stans and Alec Philippe poses a great threat against any defense in the league. Both players have a pair of goals and an assist on the season, leading the team offensively. 
Meanwhile, the Lions have grown immensely on the defensive side of the ball, having only allowed five goals in the past three games. The catalyst for change in the defense is the improvement of goalie S
cott Pengel
l
y
, who recorded 10 of his 24 saves in the previous three games.
Stay up to date with all things OCFC by following the club on Facebook, Twitter, and Instagram. Game broadcasts, video features, and highlights can be found on the OCFC YouTube channel. For ticketing and apparel and much more, visit OaklandCountyFC.com.