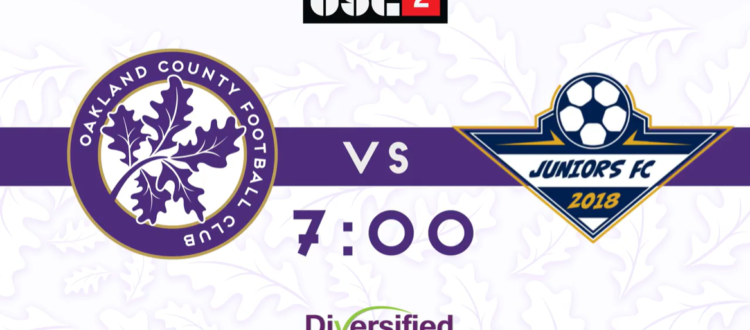 Match Preview: Saturday's Special Exhibition Match – OCFC vs Juniors FC
Composed by Jack Hellmann
—
Oakland County Football Club makes a return to Clawson Field this Saturday at 7 PM in a friendly match against Juniors FC of Detroit's Liga Mundo Latino! Oakland County enters the special exhibition match as they sit in fourth of the Great Lakes division. Following a heartbreaking loss, last Sunday, County looks to rectify its record and get the fifth win on the season for the first time in organization history.
'Friendly' foe. Local showdown. 🤜🤛

We'll be hosting Juniors FC of Detroit's Liga Mundo Latino on June 26 at Clawson Stadium! #SupportLocal pic.twitter.com/uH2fdFMuSa

— Oakland County FC (@OaklandCountyFC) June 9, 2021
The boys in purple come back home on the back of an impressive weekend courtesy of Kevin Buca who recorded a mind-blowing 12 shots, two goals, and three assists in the last two games. The impressive output of Kevin Buca has elevated County to a serious threat in their division. In the midst of Buca's performance, Alejandro Steinwascher, who is filling in for an injured Mike Melaragni, has made an immediate impact featuring an exhilarating breakaway goal. The ability of Steinwascher to fill the shoes of an asset such as Melgerani has helped Oakland County continue the pressure they have applied on opponents all season.
1⃣ Weekend: 1⃣2⃣ Shots. 2⃣ Goals. 2⃣ Assists.
BUCA=BEAST 💪
@kev_buca | #BleedPurple pic.twitter.com/sBYrRBILGn

— Oakland County FC (@OaklandCountyFC) June 24, 2021
To back the much improved and effective offense of County is the gritty defense lead by Nikolas Papakryakopoulos. Through his physical play and ball tracking ability, opposing offenses have struggled to create scoring opportunities against Oakland's backline. The center back duo of Chase Inscho and Jaylen Shannon have proven to be an excellent partnership as well.
In goal, the boys in purple have been able to stunt the opposing team's momentum swings with numerous highlight-worthy saves. Coach Vinnie has run a rotation in net between Eric Cotton and Max Loria, who have both proven to be salient goalkeepers who embody the bleed purple campaign.
Oakland County heads into Saturday's game with intentions of diving into their bench and giving opportunities to numerous players. While this contest does not count in the rankings for OCFC, a win would reap rewards of experience and momentum as they look to close out the season.
The County matchday experience extends beyond the stadium. Fans can meet, drink, and dine at Zeoli's Modern Italian, the official Clubhouse of Oakland County Football Club. The local family-owned restaurant, located in downtown Clawson, rolls out the "Purple Carpet" for OCFC fans. The Purple Gang can really ball out with amazing deals every matchday — including ONE DOLLAR BEERS!
Stay up to date with all things OCFC by following the club on Facebook, Twitter, and Instagram. Game broadcasts, video features, and highlights can be found on the OCFC YouTube channel. For ticketing and apparel and much more, visit OaklandCountyFC.com.