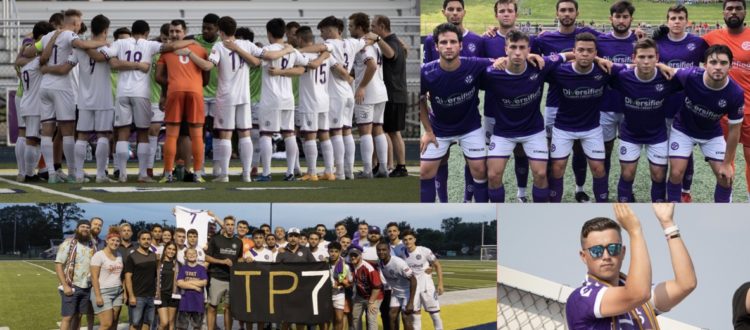 A Season to Forever Remember: Looking Back on 2021
Composed by Robert Kerr and Jack Hellmann
—
Oakland County Football Club concluded the 2021 season on Saturday, July 10, in a 4-0 loss to the Flint City Bucks. While the season ended on a downbeat, OCFC's action packed 2021 season produced many highs, including a club record for most wins in a season. The new record was accomplished in the USL2's Great Lakes Division, the most competitive division the club has been a member of. Behind first-year coach Vinnie Vasilevski, Oakland County took a huge step forward and further proved how high the club's ceiling is.
'Twas a season that had its ups and its downs, but it was 𝙚𝙖𝙨𝙞𝙡𝙮 our best one yet! 😀

THANK YOU #OCFC faithful for being by our side every step of the way. We can't wait to see you back in the stands in '22!

As always, #BleedPurple 💜 pic.twitter.com/YlsT8KEG7F

— Oakland County FC (@OaklandCountyFC) July 14, 2021
County started off on the right foot with a 3-0 win over Fort Wayne, where Nebojsa Popovic emerged as one of USL League Two's top players. In the opening game, Popovic scored twice and DJ Hooks added another, to finish off the game. Popovic capitalized on the early momentum, scoring in two of the next three games, and led USL League Two in scoring for the month of May. 
In the following week, County showed the toughness and grit that would continue throughout the season, in a 1-0 loss to Cincinnati Kings Hammer. Despite being shutout, the boys in purple were not phased, and responded with five goals against Toledo Villa in a wild 10 goal thriller on the road. County then stepped into an unwanted pattern, as the team once again found themselves earning just one point from a late winning position, on the road. This time in Fort Wayne.
The Purple Gang kicked off the month of June back at home, dueling with the number one team in the division, Kalamazoo FC. County prevailed in a season-altering 3-2 victory, giving KZFC their only loss of the regular season. County keeper Max Loria made a statement as an elite goal protector, making a massive highlight reel worthy save to secure the win. The division was put on notice for the growing playoff threat in Clawson.
We had some fun in the rain last night 😎

📸 | Denise Allen pic.twitter.com/XeT1vPp5ZQ

— Oakland County FC (@OaklandCountyFC) June 3, 2021
Oakland County then played host to in-state rival Grand Rapids FC. In the mix of a 0-0 first half stalemate, an unearned OCFC red card limited the team to ten men. As a result, Grand Rapids utilized the extra man, and scored three unanswered goals to defeat the boys in purple.
County sought to rebound from the tough match when they set their sights on South Bend. The match featured a clutch goal from defender Chase Inscho in the 89th minute, to give County a 1-0 win. Oakland County then found themselves tied for the fourth spot in the division, giving the team a way into the top three. In order to get into playoff contention, County needed a win against the Dayton Dutch Lions. In the key match to start off the back half of the season, Oakland County conquered a desperate Dayton Dutch Lions Club. Victory came courtesy of one of the club's best individual performances by midfielder Kevin Buca. Buca contributed all across the field throughout the game, in addition to scoring and providing an assist. 
Here's a 👀 at our game winner. @ElmwoodElite, you guys hype? https://t.co/EiUp5ZHgNM pic.twitter.com/lNbTfhqMs8

— Oakland County FC (@OaklandCountyFC) June 13, 2021
The three points earned against Dayton put County into the playoff race as they hit the road to play second place Cincinnati. Oakland went into the match with tenacious energy, and played well, but we're pegged back in a 3-2 loss. The game was played in the intense heat of Ohio, where Kevin Buca continued his hot streak and scored another goal. 
In a change of pace, OCFC then came home for an exhibition match against Detroit based Juniors FC. In the friendly contest, County recorded their largest tally in club history, with a mind-boggling 13 goals. 
That's a wrap from Clawson! The boys took care of business early and often as we get ready for a big stretch to close out the season.

Thank you Juniors FC for coming out! #BleedPurple pic.twitter.com/ENCtFhkqYS

— Oakland County FC (@OaklandCountyFC) June 27, 2021
After the impressive exhibition, Oakland County looked to continue the momentum on a road trip, starting out in Kalamazoo. Despite KZFC's first place record, and home field advantage, Oakland County forced a draw, with a 1-1 result, behind a brilliant goal by Alex Dalou and incredible team resilience at the back.
The tie against Kalamazoo kept County in the playoff race as they went down south to Dayton Ohio. In the mix of a critical match, County demonstrated great focus, earning a 5-2 victory, to further their playoff chances. Following the successful road trip, the scene was set for an epic division deciding match against the Flint City Bucks, on the fourth of July. 
In front of the largest crowd of the season at Clawson City Park Stadium, the boys in purple put forth a valiant effort despite missing numerous regular starters. An early County goal from August Hunter lit the stadium up with excitement, and hope, for a shot at playoffs. However, Flint would not give up, and went on to score four unanswered goals to win the game.
Despite the result, yesterday's match will be one to remember. Thanks to the 550+ that came out to spend your 4th of July with us! 😁🧨

📸 | @renalaverty #BleedPurple | #ForTheCounty pic.twitter.com/zQENeIN5eG

— Oakland County FC (@OaklandCountyFC) July 5, 2021
With playoff hopes fading, Oakland County faced off against Grand Rapids FC, with a new goalie in net. Oakland once again captured an early lead off goal's by August Hunter and Demetri Pliakos. Behind them, there was an impressive effort in goal, by 15 year old debutant keeper Quentin Ubaydi. County maintained a one goal advantage until the 70th minute, when Grand Rapids found the back of the net twice to close out the game for a 3-2 OCFC loss. County then completed their inaugural USL2 season with the club's first road trip to Flint. While the boys fought a valiant fight, they fell just short in a 4-1 loss to close out the season.
The 2021 season had many ups and downs, yet the community support and effort continued to fill the air with excitement around the team. Huge thanks to the fans, staff, players, and host families, for making this landmark and emotional season an unforgettable experience. 
The @CommunityKicks_ program will be expanding in-person opportunities to outreach to youth around Lansing & SE Michigan, with the help of newcomers @lansingcommonfc, @OaklandCountyFC & @InterDetroit
joining the active efforts of @AFCAnnArbor.

Details: https://t.co/5AlPxN6UN1

— Michigan Soccer Central (@MISoccerCentral) July 14, 2021
During the off-season, look out for OCFC and Community Kicks partnership pop up clinics in an area near you. Also, keep up to date with off-season events and all things OCFC, by following our Instagram
,
Twitter
, and
Facebook
. 2022 can't come soon enough.
Let's all stay safe and sound until then, and always, #BleedPurple!