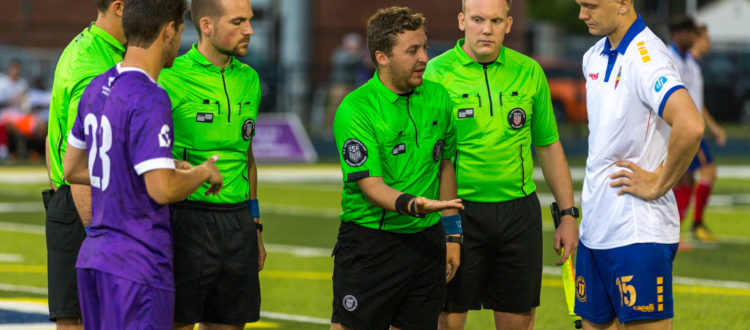 Match Preview: OCFC vs Flint City Bucks
Composed by OCFC Writing Staff
—
Oakland County Football Club returns to Clawson City Park Stadium on the 4th of July! County have the reigning Nation Champion Flint City Bucks in their crosshairs in a critical late season clash on the nation's birthday. Sunday's season finale succeeds OCFC's Friday night, 5-2 road win, against the Dayton Lions. Given the depth of the season and scarcity of playoff spots remaining in the division, an Oakland County win seems to be imperative as they look to close out the season in the top three. The drama of Sunday's game is further amplified by County being in a direct battle for the remaining playoff spots with the Bucks. Kickoff is set for 5 PM. Tickets to the match can be purchased here.
🇺🇸 This Sunday, July 4th, in partnership with @CityofClawsonMI, we'll be hosting the 2019 National Champions, @FlintCityBucks, in our 2021 home season finale and biggest match of the year! 🎉

🎟️: https://t.co/4HNnyX0LN2#BleedPurple pic.twitter.com/zoYOSFQTXl

— Oakland County FC (@OaklandCountyFC) June 29, 2021
County's remaining three matches are against the teams in the playoff race and the fate of postseason play is contingent on key victories in each of them. With Kalamazoo FC clinching a playoff spot earlier this week, County's battle for the last two playoff places are with the Flint City Bucks, Cincinnati Kings Hammer, and Grand Rapids FC.
County's success this season can be attributed to the intensity brought all around the field. Starting with the bulldog in the middle, Kevin Buca, who's skill, passion, and toughness, has inspired the team and provided much more than his three goals on the season. Depth of talent has also been key, as multiple players have stepped up from the squad to carry County. With starting striker Mike Melgerani out, Oakland County has experimented at forward between Alex Steinwascher, August Hunter, and Alex Dalou. This newfound depth has both been impressive, and kept County in the playoff push for an exciting final stage of the season.
First match. First start. First goal.

Tonight's @DMCreditUnion Man of the Match is Alex Dalou! 💪

Great defense all match and candid photography work by @jaylenoneno as well. 😂 #BleedPurple pic.twitter.com/kvp21zKyWV

— Oakland County FC (@OaklandCountyFC) July 1, 2021
The blockade of the defenders in purple continues to stunt teams and keep Oakland County competitive in nearly every game this season. The four-man backline of Rosenblatt, Inscho, Papakyriakopoulos, and Shannon, have formed a perfect cohesion which has thrown teams off of their offensive rhythm. Behind the defense, County Head Coach

Vinnie Vasilevski

's goalie rotation of Eric Cotton and Max Loria have lit up USL League Two highlight reels with phenomenal saves. Both goalkeepers provide their own styles and athleticism which cause problems for any opposing offense.
Sunday's opponents, the Flint City Bucks, are the reigning national champions of USL2 – led by a dynamic duo in
Ids Hannema
and
Jacob Erlandson
who lead the team with three goals each this season. While their offensive production has been beneficial, the stout defense of Flint City has catapulted them to their third-place ranking. Their defense has provided five shutouts on the season in front of goalkeeper Isaac Walker. Walker has only let in seven goals and recorded 23 saves. Oakland County will need to harness all of their firepower to dethrone their in-state foe.
Behind County's Elmwood Elite and broader support, Clawson Stadium has found itself an energetic and exhilarating home crowd, in 2021. With the end of the season fast approaching, earning points at home is imperative for their playoff hopes.
Stay up to date with all things OCFC by following the club on Facebook, Twitter, and Instagram. Game broadcasts, video features, and highlights can be found on the OCFC YouTube channel. For ticketing and apparel and much more, visit OaklandCountyFC.com.