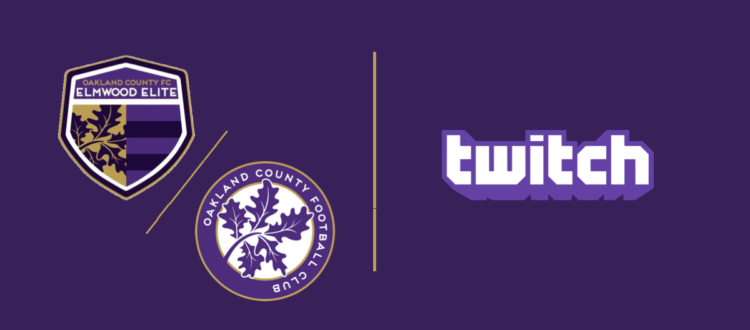 OCFC Embarks on a New Digital Experience: eSports
Written by Robert Kerr, Staff Writer
—
Oakland County FC, Michigan's community owned soccer team, has expanded into the world of eSports. The move to digital competition is the latest of several transformative changes the Clawson based club have made in early 2020, as the club awaits to make their debut in United Soccer League 2. With the current public health crises looming over scheduled live events, OCFC, and its fans of Elmwood Elite, have entered into the 'Lower League eCup'. The digital competition began April 1, and can be viewed on OCFC's eSports Hub on the Twitch App.
To-do list 📝

1. Mark your calenders 📅
2. Follow Oakland County FC on Twitch: https://t.co/QrYjGL5F56

All games will be hosted on our Twitch page! #BleedPurple pic.twitter.com/yuFfHBcukl

— Oakland County FC (@OaklandCountyFC) March 31, 2020
The decision regarding a postponed season will likely be made clear following a conference call between clubs and league representatives of the Great Lakes division on April 15. In an effort to engage with the fanbase, OCFC has chosen to compete in eSports, and to continue pre-production of an in-house YouTube show, called OCFC Extra Time. Both OCFC and it's supporters group, the Elmwood Elite, will play the popular soccer simulation game, FIFA 2020, and participate in the Lower League eCup. The competition is an online grassroots effort, being sponsored indie soccer blog, Protagonist Soccer. Featuring more than 90 teams of both fan groups and clubs, communities from of a swath of minor league soccer teams from across the country, are able to interact and view their teams, even if they can't be in a crowd.
Night ☝️ of the 2020 @lowerleagueEcup in the books! A great tournament to get us through the month ahead.

Updated #eSports page with our scores and standings from this evening ⤵️. #BleedPurple https://t.co/qDaEyZGrLR

— Oakland County FC (@OaklandCountyFC) April 2, 2020
OCFC have sent three gamers out into the competition. Club owner Theo Foutris will compete on his PC, club intern Will Wardle on PS4, and on XBOX will be Elmwood Elite's own Peter Trout. By downloading the Twitch app; fans, friends, and foes, alike, can follow the FIFA 20 action live as it happens. OCFC's, Peter Trout, began the Club's eCup campaign on April 1st, falling 2-1 against Asheville City SC. The loss was quickly countered by Will Wardle's 7-0 drubbing of First State FC, later in the evening. For more information on Oakland County FC and the Lower League eCup, follow the club on Twitter @OaklandCountyFC.
Sorry, there was a YouTube error.